Content Manager helps hotel chains organize digital media assets such as pictures, images, and video for storage, retrieval and distribution to the world's largest network of travel websites, their own brand sites, internal departments and third party vendors.
Beyond just an asset repository, Content Manager provides support for key workflows, such as approval loops, and content creation tools, like Rooms Type Engine and your Media Library. When assets are published, Content Manager's distribution capabilities can deploy the right files to the right channel to our network, the world's largest network of travel websites – all on a global basis.
Leonardo offers advanced media display technology allowing hotel chains and travel sites to create an optimized visual experience for online travel shoppers. Multi-Media Galleries are highly customizable for seamless integration with desktop and mobile websites.
You likely knew about some of Leonardo's popular features, but did you know that the Multi-Media Galleries are in compliance with The Americans with Disabilities Act (ADA) standards for Accessible Design? This means that content is available for more travel shoppers to view, and make bookings.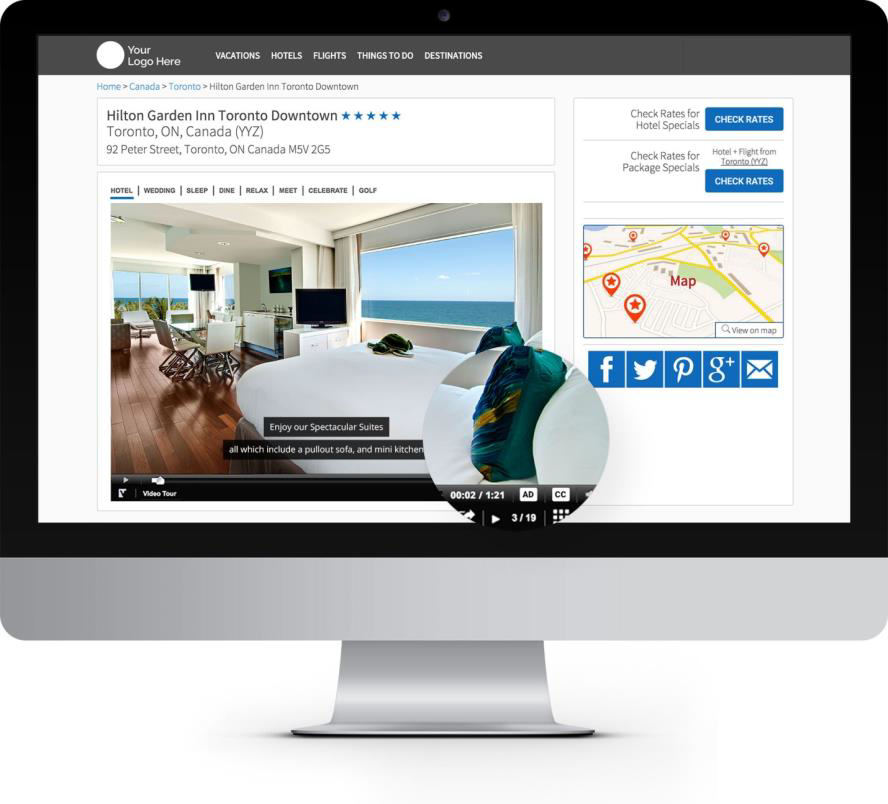 Here are the powerful Accessibility features included in Content Manager:
Closed Captions
Closed captions have been added to English videos. Shoppers can now view synchronized subtitles alongside English videos appearing in their Multi-Media Gallery.
Audio Descriptions
Audio descriptions have been added to videos. Shoppers can now hear a brief introduction about each video before it starts. If the AD button is turned on, an audio description will be played before each video starts. If the AD button is turned on halfway through a video, the audio description will not be played for the current video, but it will be played for the next video in the gallery. Audio descriptions are unique per OTA category. If 2 videos have been categorized as "Exterior view" for example, users will hear the same audio track "The following video is about the exterior view of the property" before each video starts.
Keyboard Navigation
Keyboard navigation of the standard browser gallery has been enhanced so it's more accessible. Travel shoppers can now navigate the viewer and its media without the aid of a mouse. Videos can be started and stopped quickly and easily, with a press of the space bar, while focus is anywhere on the page or inside the viewer. This was done so that users can quickly and easily stop videos with a single key press, in the event that videos are set to autoplay and a screen reader is running simultaneously.
If you're subscribed to Multi-Media Galleries and want to make sure you're leveraging these Accessible Design enhancements, contact your Account Manager to learn more.