The game of trying to optimize content for each channel can be a challenging one to play, but there are some general guidelines you can follow to ensure you're getting the most mileage out of your visual content on travel channels. We've compiled 3 simple tips to help ensure your content is working for you on third party travel channels.
1. Categorize your Content
Most OTAs and travel channels use standard Open Travel Alliance Categories to help process and understand the visual content that they receive in a standardized way. OTA Categories help a travel site understand the subject of your visual content and how it should be used, making it extremely important to ensure that your visual content is set with Open Travel Alliance categories that accurately depict the content of a media item.
Uncategorized content as well as content categorized as "other" goes unrecognized by most channels, and some channels will even penalize for images that are improperly categorized, so it's important to make sure your categories count.
Set categories that are a reflection of the visual content you're sharing, and make sure that it rolls up to one of the predefined OTA categories.
The following is a list of Open Travel Alliance categories, along with the appropriate subcategories:
Business Center
Exterior
Guest Room

Bathroom
Deluxe Room
In Room Amenities
Standard Room
Suite
Superior Room

Interior
Local Attractions

Beach
Destination
Golf
Landmark

Logo
Map
Meeting Room
Other Hotel Services/Amenities
Restaurant
Recreational Facilities

Gaming Facility
Health Club
Pool
Spa
For Content Manager users: Appropriately categorizing your visual content can have a significant impact on your content score with many channels so make sure your hotels are taking the time to set categories during the upload process. Captions can also be updated at any time by logging into Content Manager.
2. Use Captions To Tell a Story
Creating a valid caption for your image is essential to SEO, and it also helps travel channels differentiate images. The image caption might also be used as the image's snippet in search results, so you want it to be relevant.
For Content Manager Users: When you upload your media to Content Manager, make sure you change the title of the file name so that it accurately reflects what the image is – this will become the caption for your photo. Make sure you rename your images to something more descriptive.
For example: if your image is of the Bathroom in one of your suites, the file name shouldn't be DSC4536.jpg – it should be Bathroom Deluxe Suite.jpg. Try to put the main keyword (the main subject of the photo) at the beginning of the file name (in this case "Bathroom").
This is what a caption looks like, pulled from Google. When naming their photo, this hotel has considered what people are searching for: the location (Montana), the activity (horseback riding) and the intent (vacation), and included all three in their caption. Note the file name they've used as well ("Horseback_Flathead_Lake"), which contains more targeted keywords.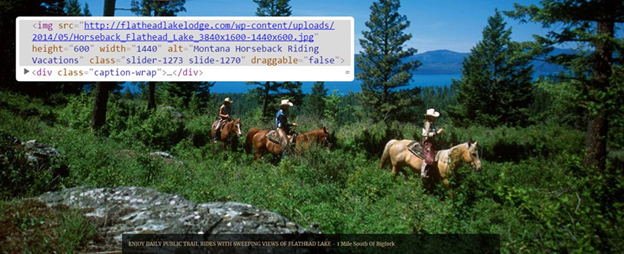 3. Put your Best Content Forward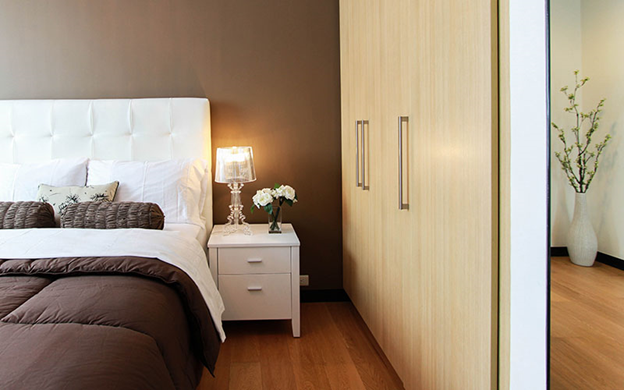 Channels want high-quality content. Higher quality means a richer experience for travel shoppers and a better overall impression. So it's important that you're sharing the highest quality content you have.
There are a few things you can do to ensure you're sending channels the best quality images:
Ask for high-quality content from your hotels
Set minimum standards for your hotels
Proactively work with hotels to improve low-quality content.
Image quality will impact content score, so make sure it's something you're proactively monitoring.
For Content Manager users: Content Manager will take care of sending the highest accepted size to each channel. But we can't send higher than what we receive, so make sure you're uploading the highest-quality images to Content Manager. The recommended resolution is 2048px+. However, many channels, like Expedia, want even higher quality images. Expedia considers high-quality content to be 2880px or higher.
It's difficult to optimize your content for every channel out there – but the basic rules we've outlined above can help put your best foot forward on every channel. Reach out to your account management team for an image quality report and to learn how you can improve your content on third-party channels!