So you've gone through the backlink toolkit your dedicated Success Manager sent over to you after your website went live, and you've sent out a few emails to potential backlink partners.
In a perfect world, these potential backlink partners will agree to add your link to their website without any hesitation. Realistically, hoteliers will often have to negotiate to create a mutually beneficial partnership.
Backlinks are crucial to the success of your website, as each strong link that points back to your website provides you with more credibility in the eyes of Google. We've outlined some ways you can create long-lasting backlink partnerships that will drive more revenue for both websites.
Create A Special Offer
One of the best ways to form a worthwhile backlink partnership with a local businesses is to create a special offer or deal that can entice customers to not only book directly with you, but also provides incentive for guests to visit this local business or attraction. Take for example the partnership formed between Comfort Inn & Suites North Conway and their local holiday-themed attraction, Santa's Village. The hotel sells discounted tickets to the attraction and provides extensive visitor information to travel shoppers, while Santa's Village lists the Comfort Inn North Conway as a "Penguin Partner Property" and provides a description of the hotel along with a link to their website.
Creating a specific partnership like this allows the attraction to sell more tickets to more customers, and provides the hotel with the backlink needed to increase their domain authority.

Create A "Thing To Do"
As part of our tailored SEO strategy, we write content around local area attractions, creating targeted pages for a few specific points of interest that have enough keyword search volume to merit a dedicated page. In an effort to ensure that a backlink to your website is present on popular local attraction websites, potentially listed under their "places to stay" page, create some content on your website that outlines your close proximity to the attraction while providing a direct link to their website!
When you're looking to create tailored content highlighting the attraction you want to get a backlink from, just reach out to your Success Manager. As we start to build out each website, we create content that is going to target particular shoppers, but any new content updates that are designed to target those potential backlink partners can be added over time.
Content updates are a crucial part of SEO success, so we encourage all of our customers to add relevant content to their websites on a regular basis.
For more information on how updating your website impacts SEO, check out our community article on the subject.
Become The #1 Meeting Spot
Does your property feature meeting or event space? Leverage this particular amenity by partnering with a local business or event planning company to become their exclusive venue for any upcoming meetings and events. If it's within your budget, you can provide them with a special discounted rate whenever they plan to host a meeting, and assign a specific person or team to help facilitate each successful event.
In return, ask this business to provide a backlink, perhaps on their partnership page! Not only will this increase your meeting and corporate revenue, it guarantees extended income from any and all meeting or events this company plans to host.
Pavilion Grand Hotel has partnered with a local event planning company, United EVENTures, to host the organizations team building and professional training events. The hotel is also listed on the organizations Affiliated Venues page along with a description of the property and a backlink to the website.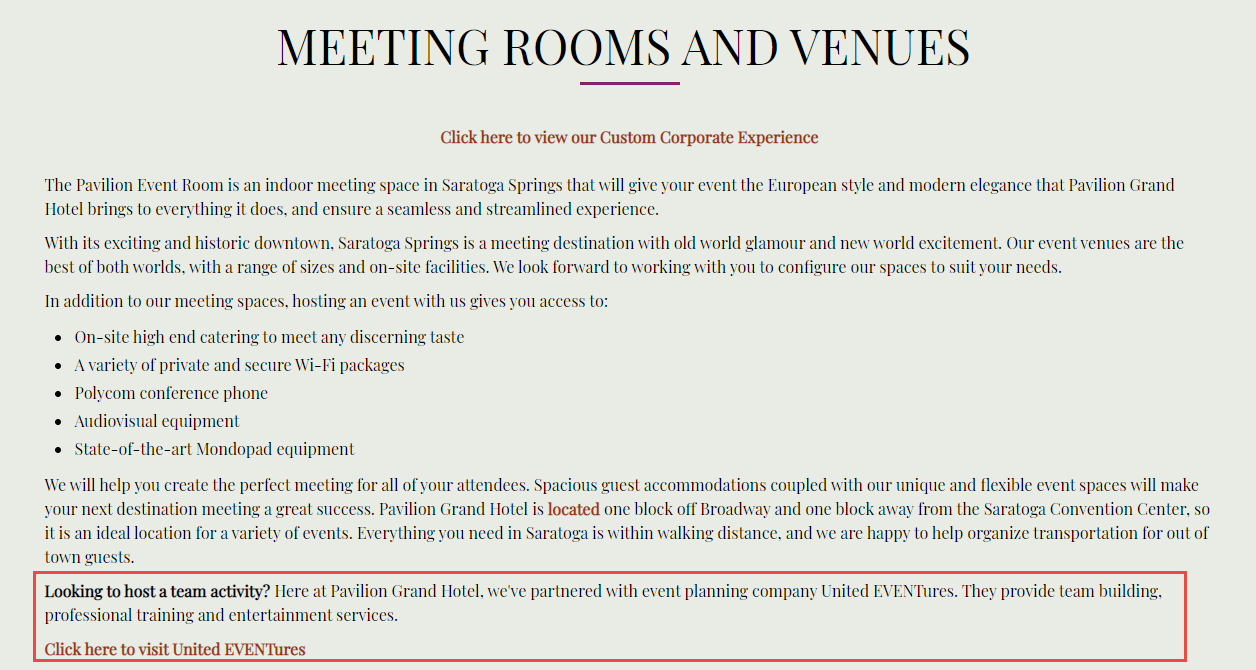 Built For Success
There are a ton of ways you can increase your success rate with obtaining backlinks. After reaching out to the potential opportunities outlined in your personalized backlink toolkit, consider the ways that you can make this potential partnership mutually beneficial. Not only will these specific tactics allow you to obtain the backlink and help build your domain authority, they can also work to increase your revenue by targeting corporate business travelers and budget-conscious leisure guests.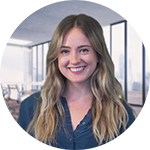 Written by Rachel Devitt, Senior Content Specialist