We are providing more performance data so hotel brands can make smarter, faster media strategy decisions. In-app Reports, the newest feature in our enhanced Content Manager interface, provides everything you need to know about property-level media in two easy to read reports.
Understanding the Media Report
Content Manager's Media Report provides an overview of media data that directly impacts revenue generation and brand integrity on third-party sites. It's more than pretty data visualization: the reports are based on real, current best practices provided to us by travel channels, including Expedia, Booking.com, and more.
Reports are available at the property level in Content Manager. To access the Media Report, select a property on the left panel and then click the "Reports" drop down in the top menu.
With the Media Report you can see your overall content score at a glance. You can also drill deeper into the data with a downloadable CSV file that breaks down how you stack up against industry standards.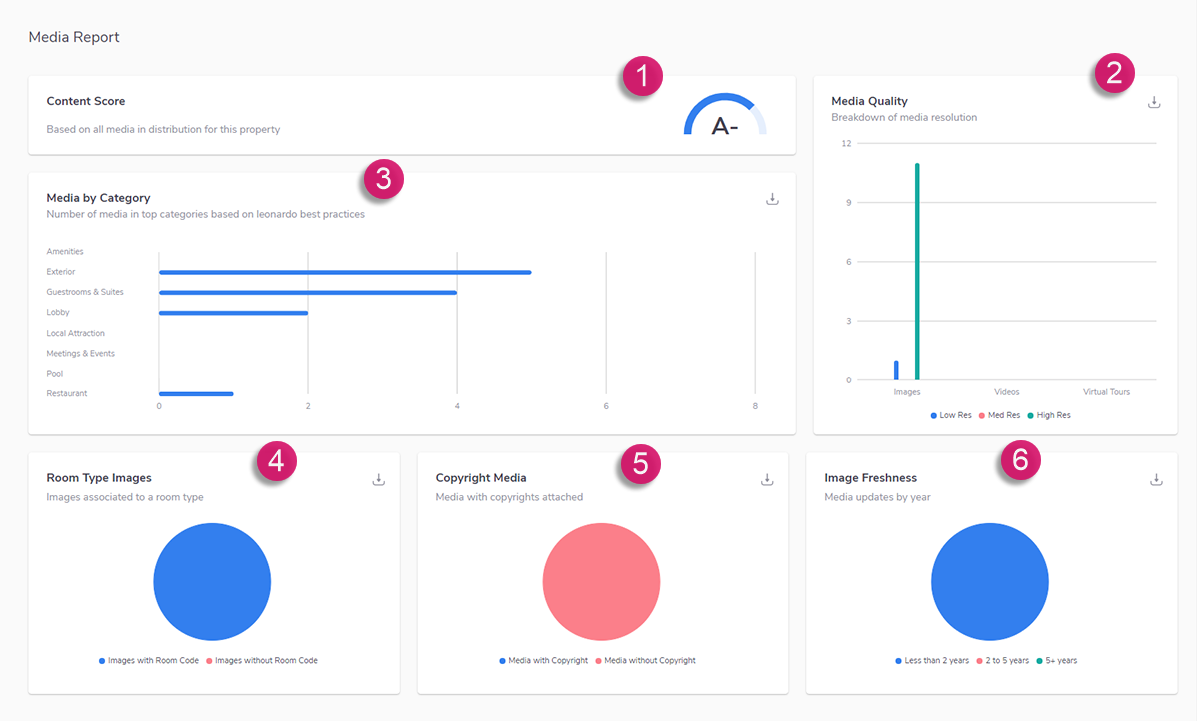 Here's everything in the Media Report (see above screenshot for reference):
Your overall "content score", which is calculated based on how many the property has of the following:


High resolution images
Images assigned to the Room Type category
Images associated to room codes
Images assigned to an amenity category

The more images you have in each category, the higher your score. These attributes are based on travel channels' best practices for media display.
Media quality broken down by images, videos, and virtual tours
Quantity of media properly tagged into the categories defined as most important to performance on travel channels, according to best practices
Shows whether guest room media has been categorized to a room code
Number of images with copyright metadata
Media age
All of these numbers are important to your performance and conversion on third-party channels. We have compiled them into this dashboard so that you can audit and take action to improve on these key metrics.
Understanding the Distribution Report
Content Manager's new interface has streamlined the upload process. Quickly bulk upload images through a simple drag and drop interface, and add categories to every photo in a few clicks. But we didn't stop there, we created a distribution report to provide further information about newly uploaded media.

The Distribution Report tells you when your newly uploaded photos will be fully distributed to top revenue generating channels.
These channels were selected based on customer insight, and we have validated each channel's distribution requirements in order to add them to this report. We are working on adding additional channels for further visibility down the road.
Note that the Distribution Report shows when content has been delivered to that channel, we do not have visibility into when channels choose to post that content.
Start improving media today
We've built these reports to give hotel brands tools to audit their properties' media. These reports can give you an impactful way to improve performance on third-party channels. Boosting the metrics in our Media Report—by sourcing new media, updating old media, or adding categories—will improve your content score and conversion across third-party channels.
If you have any questions, reach out to your Account Manager to discuss Content Manager's reports dashboard.