Search engine optimization can't be summed up in a single statement. Many different elements factor into the field and on top of that, it's constantly evolving!
That being said, there are a few key elements that contribute to boosting your hotel website in search engine results pages. We can break these different SEO methods into "on-page" and "off-page" initiatives.
On-page SEO includes all the optimized pieces on your web pages, like keywords, header tags, title tags, meta descriptions, and more. On the other hand, off-page SEO refers to the techniques used off your website to increase your ranking.
SEO Factors Work In Combination
No single SEO factor alone will guarantee to improve search engine rankings. Having strong meta descriptions won't help if a page has low quality content. Having many links won't help if they are all poor quality. Having several positive factors can increase the odds of success while the presence of negative factors can worsen those odds. That's why it's important to incorporate both on-page and off-page SEO techniques for your hotel website.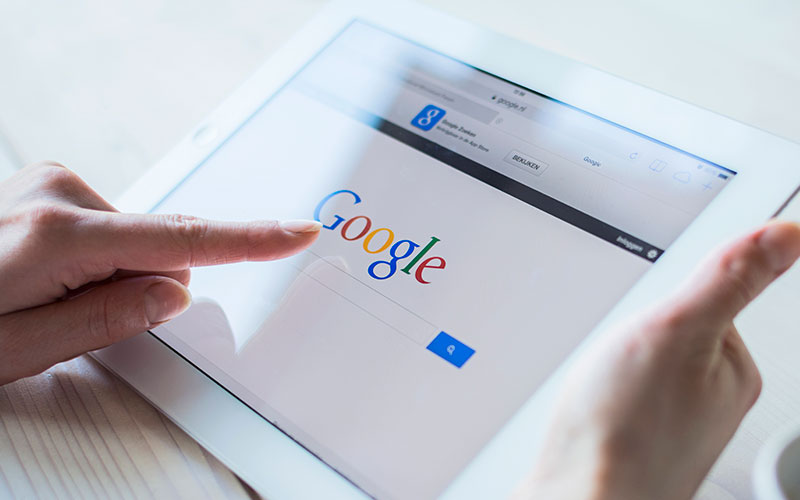 Off-Page SEO Defined
To put it simply, off-page SEO is all about building your online reputation. Search engines like Google look for reputable, trustworthy websites to display in search results. If Google recognizes your hotel website as high quality, it increases the likelihood that you'll rank higher on the results page.
Unlike on-page optimization, off-page optimization efforts are not visible on the webpage itself; it does the background work for a better search result.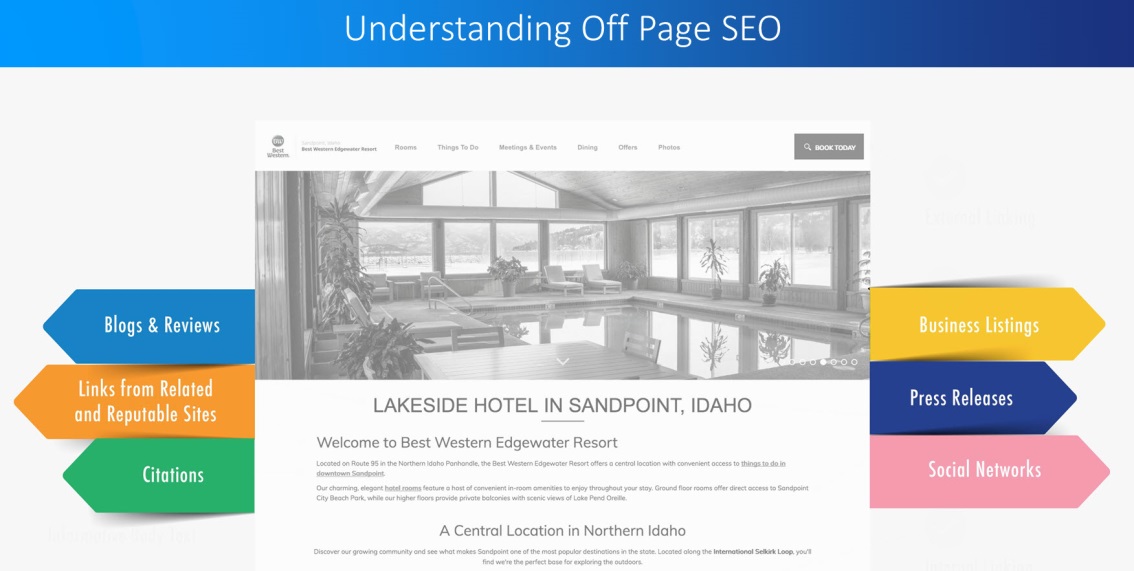 How Google Identifies Quality Websites
There are a few different signals search engines use to determine whether your website is high quality and should rank highly. Each of these pieces should be part of your off page SEO strategy.
Acquiring links
Links aren't the only element of off-page SEO, but they are one of the most powerful. It's almost impossible for search engines to judge the value of your website if there are no links pointing to it. When another website links to a page on your site, search engines see that as a recommendation and it helps increase your own website's authority and reputation.
Keep in mind that when it comes to links, quality is more valuable than quantity. If a spammy domain is linking to you it can negatively affect you and bring down your rank.
Learn more about how to get quality links and why it's important.
Citations
Citations are mentions of your hotel name and address on other webpages. These mentions are valuable even if there is no link to your site. An example is a Yellow Pages directory listing for your hotel or a local business association pages on your local chamber of commerce site.
Citations from well-established, well-indexed portals help increase the degree of certainty the search engines have about your hotel's contact information and categorization. So some high-quality, accurate citations can help improve your local search rankings.
Local Business Listings
Local business listings are online profiles that contain your hotel name, address, phone number, and other details. Google+. Yelp, Bing Places, and Yahoo! Local are examples of local business listings where you might list your hotel.
While citations are mentions of your business information or memberships to online boards, a local business listing is a business profile you've created yourself on the directory.
Learn more about local SEO and local listings.
Press releases
Press releases drafted for news-worthy content can help build natural links from outside sources. These announcements can be picked up by other sources and referenced and can help increase awareness for your brand.
This is an element of SEO that should be used with caution. Press releases can be over used and thus work against your SEO efforts. Be sure to use them sparingly and ensure that content is topical and newsworthy.
A word of warning
There is an overwhelming amount of information online claiming to give the magical formula for off-page SEO success. It can be tempting to try shortcuts that promise big results, but be wary of the tactics you use. Google is extremely intelligent and is able to quickly identify tricky SEO behavior. When a website is flagged for using spammy or inauthentic tactics, it's very difficult to recover.
Strive to obtain real, quality links from sources you trust by creating valuable content, fill in your local directory listings and send out press releases when the time is right.