Share all of your digital assets with your partners, even media that doesn't fall under specific properties with Media Library Collections.
You can easily create Collections of non-property specific media such as corporate headshots, brand logos, event photography, or shared stock images. Organize your digital assets into custom Collections based on your needs.
Collections are accessible to all Media Library users, including Admins and Readers.
How to Create a Collection
Users must have Admin level access in Content Manager to create and add media to Collections.
Terminology:
Media Containers are the folder names in the back end in Content Manager.
Collections are the front end name when these folders appear in Media Library.
Collections sync from Containers that are created and managed in Content Manager. These custom folders will load into your Media Library within 24 hours of the media being loaded and active.
How to Create a Media Container
Create your Container in Content Manager.
Select the three dots at top right-hand corner
Select 'Add Media Container'
Choose a Container name and country and click the 'Add Media Container' button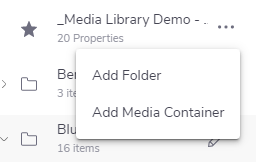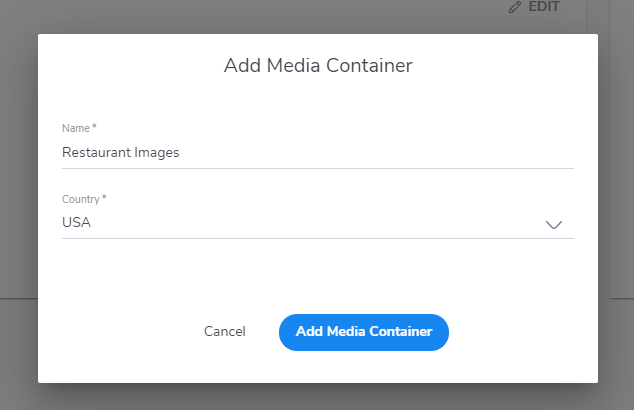 Your new Container will show up in the left panel
Easily manage your Containers and subsequent Collections from here by adding media, editing the name and media sequence
Remember that it can take up to 24 hours for Collections to appear in Media Library if you just created the Media Container or if you have just loaded or activated new media.
Removing a Collection
Deletion of Media Containers is currently not supported in Content Manager at this time. The fastest way to remove a collection from Media Library, is to delete all the media from that Media container in Content Manager. An empty Media Container will be removed from your Media Library within 24 hours. For a more permanent cleanup of Media Containers and Collections, contact our support team at support@leonardoworldwide.com
There's a custom Collection waiting for all of your media. Talk to your Account Manager about the best way to leverage your digital assets with Collections in Media Library.