We regularly release new features and updates to our products. In addition to everything below, we're also monitoring and fixing bugs behind the scenes, while also working on larger initiatives and new products.
Here's the latest news:
---
Q4 Updates
We released a number of updates to our API which impacts channels using an API connection to ingest content. The updated API allows better integration for channels, making it easier to handle the creation, update, or deletion of properties, media, and room types. In addition, our API feed now includes:
Introduced the option for gallery-only distribution, allowing hotels to upload files exclusively to Media Library

Enhanced the Media Quality and Quantity Reports with room codes


We continued to migrate customers to have room types stored at property level (rather than brand level) and continued onboarding customers to Booking.com's Quick Connect
Q3 Updates
Consolidated brand-level reporting. Download a .CSV file that lists the quantity and quality of your media across properties, including the quantity of media by quality, category, room codes, and more.

Improved security for our inbound media sync (IMS) to the latest standard


Enhanced the brand-level view of room types for customers using single-sign-on to access Content Manager

Updated Media Library to allow brands without a GDS chain code to create their own Media Library using files from Content Manager
---
Q2 Updates
Support for Adobe Illustrator file types, allowing marketing teams to upload .ai files for internal use (this file type cannot be distributed to external channels)


Competed a dedicated room types feed to Amadeus; properties with room types mapped in Content Manager are now being distributed to Amadeus' distribution network
Enhanced API connection with Ctrip among other channels


Improved media approval engine, allowing brands to specify a reason for rejecting media in the media approval workflow


Expanded file download options to include a number of pre-set resolutions and crops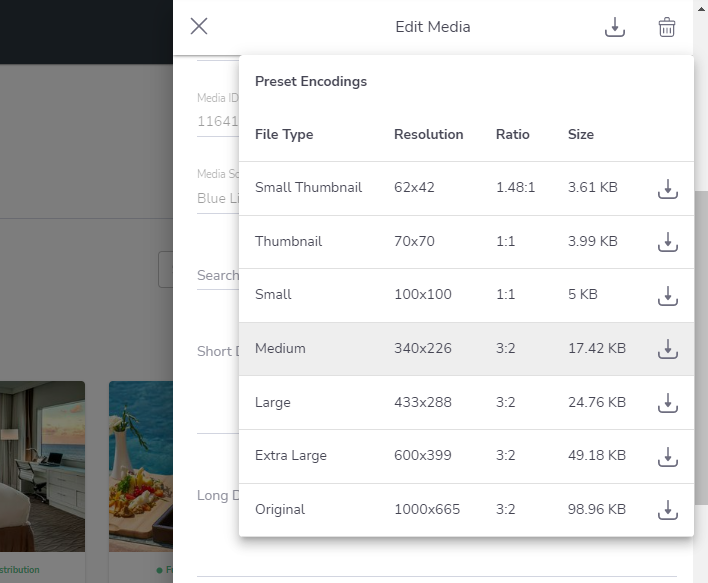 ---
Q1 Updates
Content Manager's user interface can now be switched to French, Spanish, and Dutch. This update makes it easier to potentially add new languages in the future, based on customer requests.

We are continuously onboarding customers to Booking.com's Quick Connect. This enhancement allows for a simplified and faster connection to Booking.com. We are the first vendors to write to it.


We can now match to GIATA codes, expanding our distribution reach and making property matching more accurate for travel channels.


When pulling up photos assigned to a room type, you can now click on the media to bring up the side panel to see the full-size photo and edit details for simplified editing.