Along with your hotel website, Instagram has quickly become one of the best ways to tell your property's unique story. Images are a great way to create incentive for guests to book their stay with you and to foster customer loyalty. After you've created your Instagram and linked it to your hotel's Facebook account, it's time to start utilizing your account to drive more direct bookings.
Check out our tips below on how you can use your Instagram account to its best ability!
1. Develop Your Strategy

What makes your hotel special? Find out what guests enjoy most about your hotel, be it the comfortable guest rooms, the perfect location, or the special amenities you offer, and present them to the world! With more accommodation options than ever, guests are doing a ton of research to find out more about each potential hotel, including checking Instagram to validate their decision before booking.

Make your hotel stand out with killer Instagram content - post a variety of images and hashtags to your Instagram to give guests an inside look into why they should be choosing your property.
One thing to keep in mind when posting to Instagram is consistency. It's crucial to keep a regular posting schedule, that way you have time to develop your property's unique voice, and potential customers can stay engaged as you post fresh content.
Of course, it's going to take a while before you will truly start to see proper engagement on your hotel's Instagram, but developing your hotel's unique Instagram feed will allow more guests to find your property and choose you for their next trip.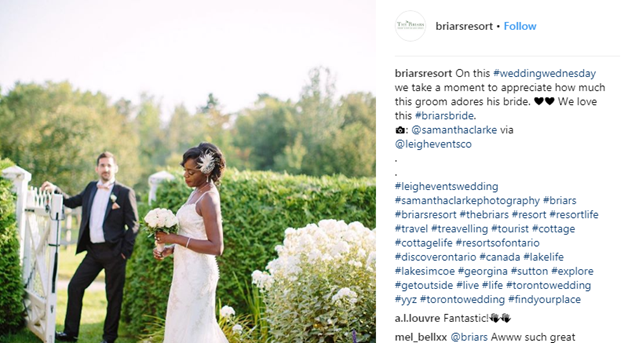 2. Utilize Instagram Stories
A relatively new element of the Instagram platform is the Instagram Stories feature. This allows an individual or business to post a "story" consisting of an image or a short video for 24 hours. While specific images like professional photos of the hotel make more sense to be featured as standard posts, Instagram stories give guests a real-time look at your property.
Need ideas? Say you're hosting a meeting or a party at the property, give your followers a quick peek inside the event. This provides a realistic view of your property, and reminds your followers that your meeting spaces are available to rent for their next gathering.
3. Connect With Followers Through Hashtags
Instagram users use hashtags to connect with specific content across the platform. Accounts will include hashtags in their posts to connect users who are searching for content on that term. For example, if I am looking for images of a historic hotel, I could search #historichotel and find a bevy of images related to this hashtag.

Create your own unique hashtag, while also using hashtags of general search terms to make it easier for guests to find you as they're scrolling through the platform.
4. Show Off Your Hotel's Special Offers
Instagram is the perfect platform to share last-minute deals and special offers with potential guests. Your Instagram account can catch the eye of potential travelers who are just browsing through their feed. Advertise a special deal on your Instagram, and include a link to your website in your Instagram bio to attract a wide range of users to your site, allowing them to learn more about your property as a whole and take advantage of your special offer.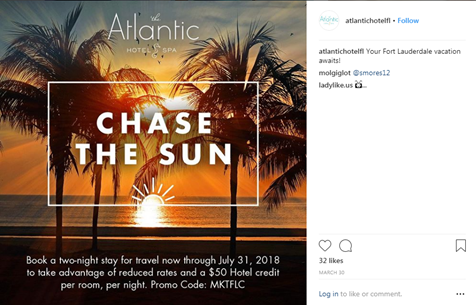 5. Encourage Followers
Make it easy for guests to post about your property! In 2018, it goes without saying that providing guest with high-speed Wi-Fi is a necessity. Not only does it allow corporate travellers to stay connected during their business trip, it gives guests an opportunity to post photos of your property to their Instagram accounts with ease.

When handing out your Wi-Fi password, or interacting with guests in general, encourage guests to follow you by displaying your Instagram handles or specific hashtags proudly throughout your hotel.
Additionally, you could encourage followers by promoting an Instagram-based contest. For example, guests who follow your account can be entered into a draw to win a discounted night's stay! This will allow guests a chance to engage with your hotel, while showing off your property to their own set of followers, thus expanding your overall reach.
6. Give Guests A Reason To Post
76% of travelers post pictures of their trip on social media. Make it easier for guests to share flattering images of your hotel on their Instagram accounts by giving them opportunities to post exciting content. Scroll through Instagram accounts that would be similar to your hotels - if you're a branded property, see what other hotels under your brand name are doing on their Instagram accounts to attract followers.
If you're a boutique property, search for other boutique hotels in the area or hotels with a specific design or service that you admire. What are these accounts posting, and what are their guests posting? How much interaction are they getting in their account? Does their hotel feature unique dishware and charming bedding that makes for an aesthetically-pleasing Instagram post?
It's Time to Get Started

The more you familiarize yourself with Instagram trends the easier it will be for you to make small but significant changes to your property that will encourage guests to post, and future guests to book.
It takes time and effort to develop a concrete Instagram strategy. Nominate someone on your team to be your Social Media Hero: someone who can take on the responsibilities of using Instagram to show off your hotel, and to increase your visibility online.