If you don't know what Google Analytics is, or aren't using it yet for your hotel website, then this article is for you! Google Analytics is a tool that's often spoken about in digital marketing, and worthwhile for any hotelier who wants to build a high-converting website. Google Analytics provides you with valuable insight that will help you shape your property's success strategy.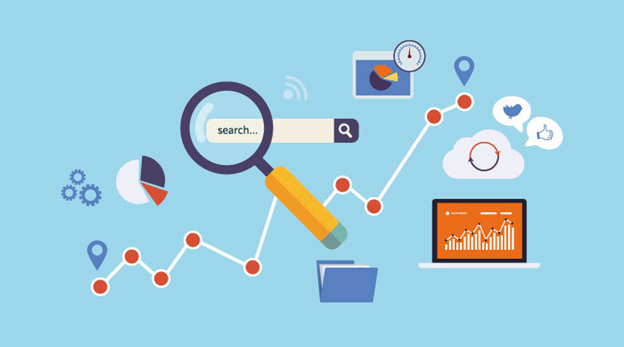 What is Google Analytics?
Google Analytics is a freemium service provided by Google that allows website owners to track the performance of their website. The software includes metrics and graphs to visually represent the health of your website.
Here are just a few of the many questions about your hotel website that you can answer using Google Analytics.
How many people visit my website?
Where do my visitors live?
What devices do travel shoppers use to view my website?
What websites send traffic to my website?
Which pages on my website are the most popular?
How many visitors have I converted into bookings?
Where did my converting visitors come from and go on my website?
The Standard Metrics
Sessions:
A session is the period of time where someone is actively on your website. A session will expire after 30 minutes of activity, or at the end of the day. The sessions metric by itself will tell you very little about how your company is performing, but it will tell you how well your website is reaching people. A higher number is better, it means your website is being found.
The sessions metric becomes more valuable when you compare it against other metrics. For example when you compare sessions to users, you can figure out how many times on average your users are accessing your site within a given time frame.
Users:
Users are the number of people engaged on your website, both new and returning. The users metric is most helpful in tracking the long-term growth of your website. You can switch to view the users metric on a month by month basis and track the success of your website as the number of users grows.
Page Views:
Page views are simply the number of pages loaded on your website. You can also filter this metric to show the number of views of a specific page, like your room type page.
You can use this metric to calculate your website conversion rate (or rate of abandonment). Start by seeing how many times your bookings engine has been accessed, and compare that to one of your landing pages with a distinct call to action to "Book Now." From here, you can calculate your conversion rate and see how successful that landing page really is in getting people to your booking engine.
Pages/Session:
Pages per session is the ratio of pages a visitor views during a given session. This metric is a little harder to read because a high ratio is not necessarily better than a low ratio. You can have a low ratio because your website has great "usability" and visitors find the information they need quickly. Conversely a low ratio could be caused by customers being unable to find the information they're looking for. To tell the difference, simply look at your bounce rate.
Bounce Rate:
Bounce rate is the number of times visitors look at a single page on your website and leave without clicking to another page. For hotel websites, generally, you want your bounce rate as low as possible (the hotel industry average is 40%). A low bounce rate indicates that you are attracting the right visitors to your site, and they are engaging with your content and clicking through to more information (your SEO strategy is working).
Average Session Time:
Average Session Time is exactly as it sounds; it is how long, on average, people visit your website. If we want bounce rates to be low, then we want Average Session Times to be high. Generally, if a hotel website's session time is high, it means visitors are engaged in your content.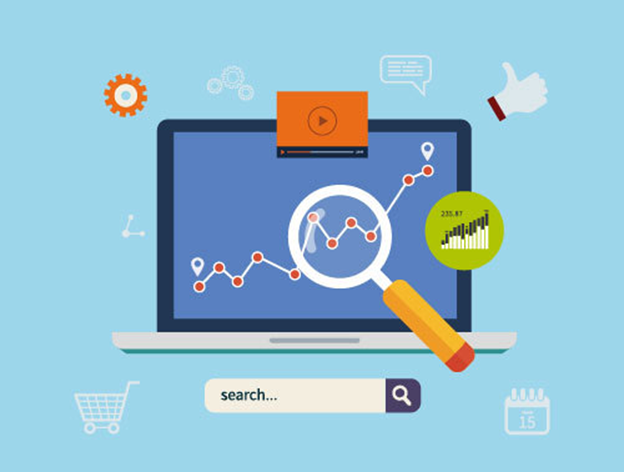 Two Advanced Strategies
Hotels, with minimal effort, can setup two additional analytical categories that are extremely valuable. Google analytics can be setup to show you how much revenue is generated from your website. And by properly tagging content, you can better track your marketing efforts.
E-Commerce Tracking
Setting up e-commerce tracking requires that you work with your Booking Engine provider. Google's e-commerce script simply needs to be installed in your booking engine, and will send Google Analytics every reservation that is made, and its dollar value. This information is extremely valuable as you can not only see how much revenue your website is generating, but also which campaigns or links are generating the most revenue, and which ones are performing poorly.
UTM Tracking & Tagging
If you aren't already using UTM codes to track how people get to your website, you should start. Google makes it easy with their own trackable URL builder. You just add the link that you want to direct visitors to, fill out a few other pieces of information you want to track and it will create a fully functioning UTM link.
UTM links are important to track as it can show you how different marketing efforts perform, and which ones are generating the most revenue for your hotel. By creating different UTM links for any promotional material you publish (social media post, paid advertisement, listings on third party websites) you can easily cut costs and drive bookings by focusing on the channels that perform well, and cancelling any paid marketing that performs poorly.
Benchmarking
Google Analytics can also show you how your website is performing relative to other websites in your industry. Simply select the Reporting tab, then go to Audience > Benchmarking > Channels. Select the Hotel & Accommodations industry (under Travel).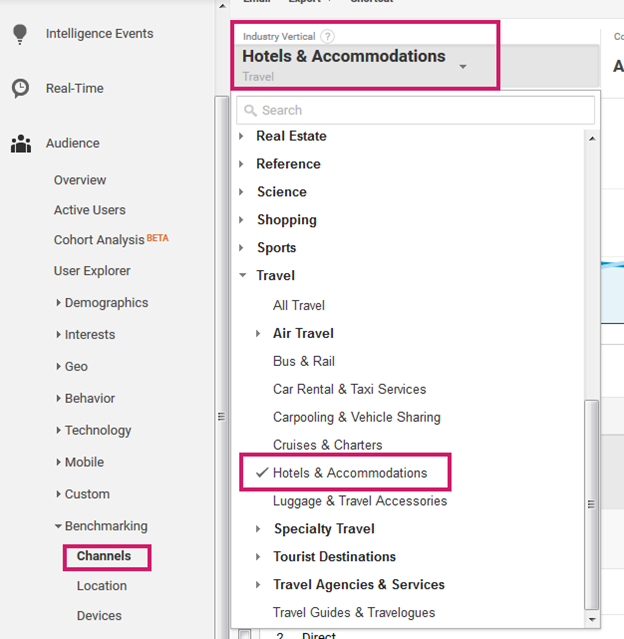 Then select the metric that you want to look at, to see how your website is doing.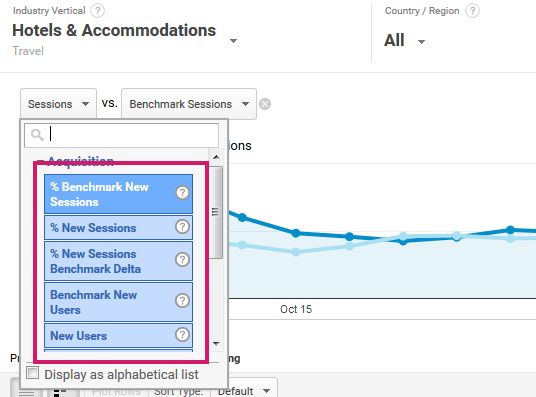 The Wrap Up
In today's digital world, your hotel's website is the cornerstone of your digital marketing efforts. Becoming familiar with Google Analytics is extremely important. It allows you to take advantage of the aspects of your digital marketing plan that are working well, and adapt aspects that are under-performing, which ultimately will drive more bookings and revenue for your hotel.
Want to add Google Analytics tracking to your Vizlly website? Here's how to do it.