Nothing beats the ability to tell your property's own story. Every hotel strives to create the optimal guest experience at the physical property: your vanity website provides travel shoppers with an opportunity to learn more about what makes your hotel unique!
If your hotel is part of a brand, one page dedicated to your property will generally be updated with information that travel shoppers need to know when booking a stay at your hotel. A vanity website highlights specific, targeted information that will capture a travel shopper's attention. A vanity website allows you the opportunity to created tailored stories and content that will ensure you not only improve conversions, but you also enhance targeted leads based on personalized content.
WELL, WHAT IS A VANITY WEBSITE?
A vanity website is essentially created to attract travel shoppers to your property by telling your hotel's unique story. Every vanity website should go beyond a standard listing of hotel features and instead focus on the local story, room types, features, amenities, and reputation of your hotel, all while appealing to your key target markets and improving your rankings on various search engines such as Google, Yahoo and Bing.
Vanity websites give each hotel owner the opportunity to tell their hotel's unique story to travel shoppers, but there's a host of additional benefits that come along with it too. Here are 7 reasons why you should consider a vanity website.
MOBILE-FRIENDLY
One of the main ways to separate yourself from local competition is to provide different paths to booking directly at your hotel. With Vizlly, you get a vanity website that is both mobile and tablet optimized. This ensures each device travel shoppers are using to view your content showcases your hotel in an easy-to-navigate format and answers all of their questions about your property.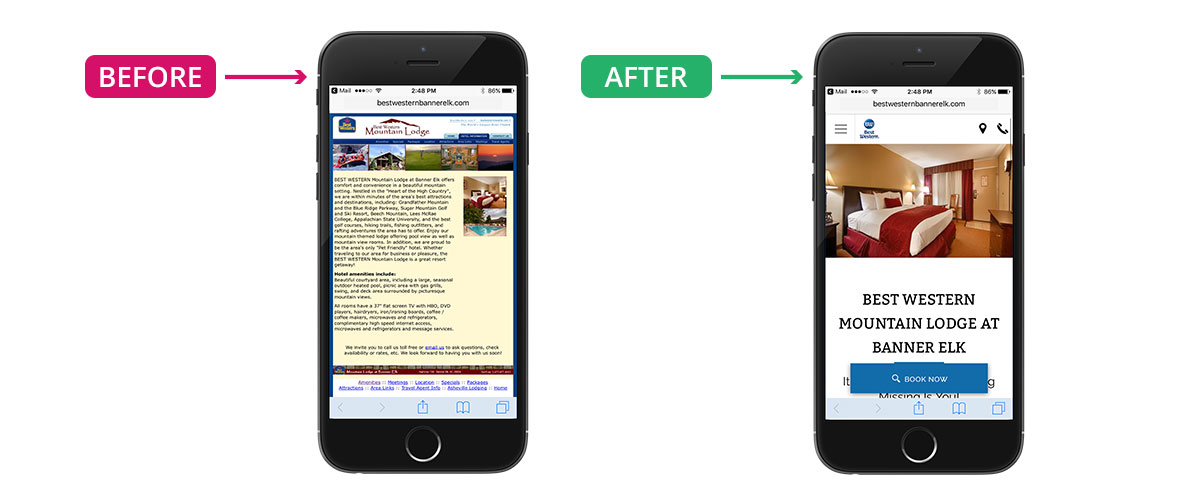 ANCILLARY SERVICES
Ancillary services, like complimentary airport shuttles or the ability to host group meetings in your on-site event space, can be featured prominently on your vanity website. Having a vanity website makes it easier for guests who are looking for a hotel with your unique offerings to find you. You have full control over this information. On a branded page, the process of updating information and requesting changes can be a daunting task.
Vanity websites allow you to upload and update your content in real time. Incorporating rich media such as videos, virtual tours, and PDF brochures provide a streamlined experience for guests, compelling travel shoppers to book at your hotel versus another. With Vizlly, you'll be provided with a Customer Success Coach, a Storytelling Specialist and an SEO researcher that will work with you to add information about your unique ancillary services to your website, ensuring it's compelling and SEO-friendly.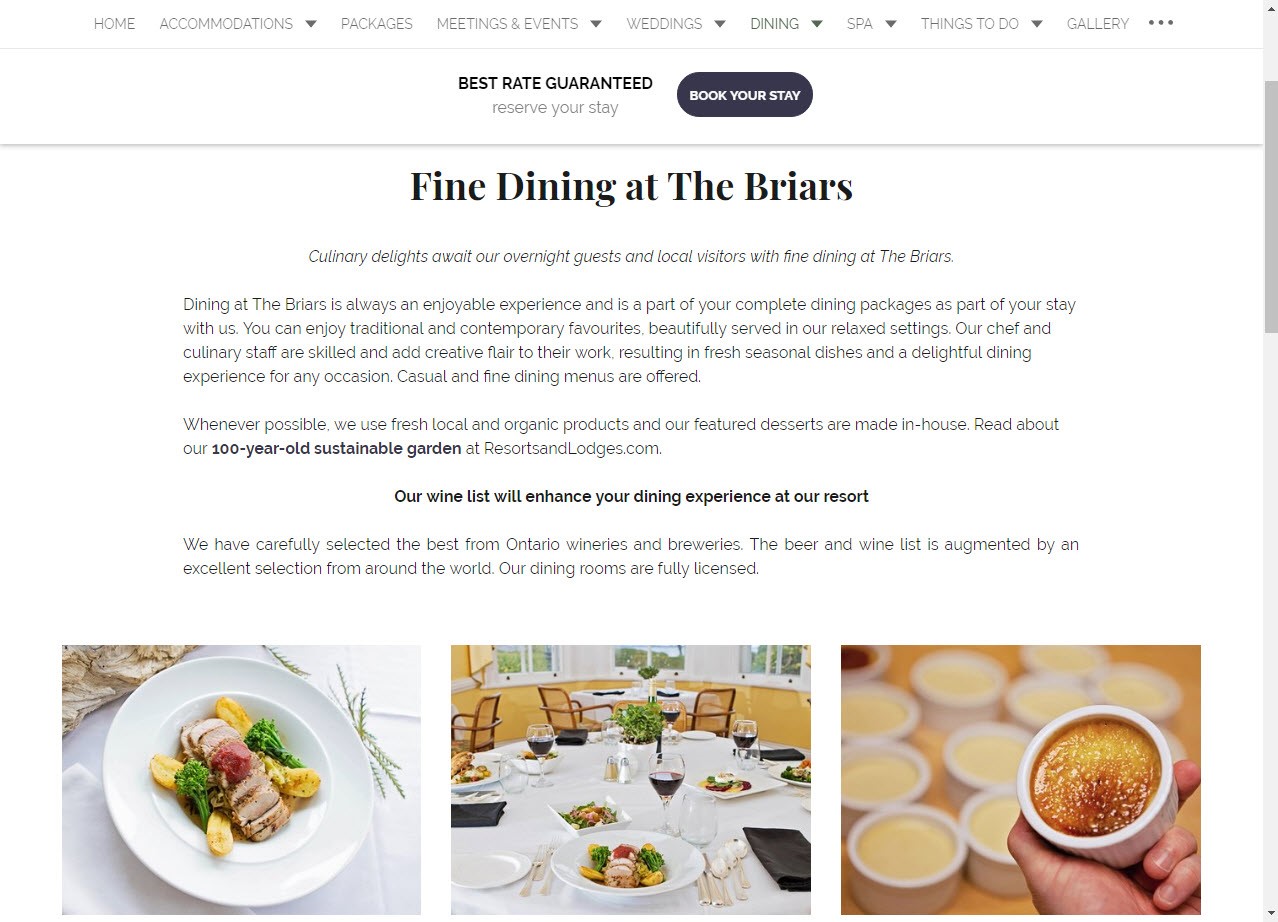 COMMUNITY/SEASONAL EVENTS
Incorporating special offers and keyword-rich pages relating to the ongoing events in your community provide incentives for travel shoppers to book directly with you. Creating local attraction pages also allows you to develop relationships with different business and organizations within your local area, with the intent to attract business travelers or event-bound guests. For example, a partnership with your local tourism board is something you can highlight on your vanity website, which is another direct booking strategy that allows you to standout from your competitors.
PROMOTIONAL PACKAGES
With your brand page, no partnerships or specific packages other than the ones created by the brand can be added onto the site. Creating a promotional package related to various events, festivals and businesses within the area is a great way to show your knowledge of the area while enticing the eye of travel shoppers looking for special offers or packages related to an event that interests them.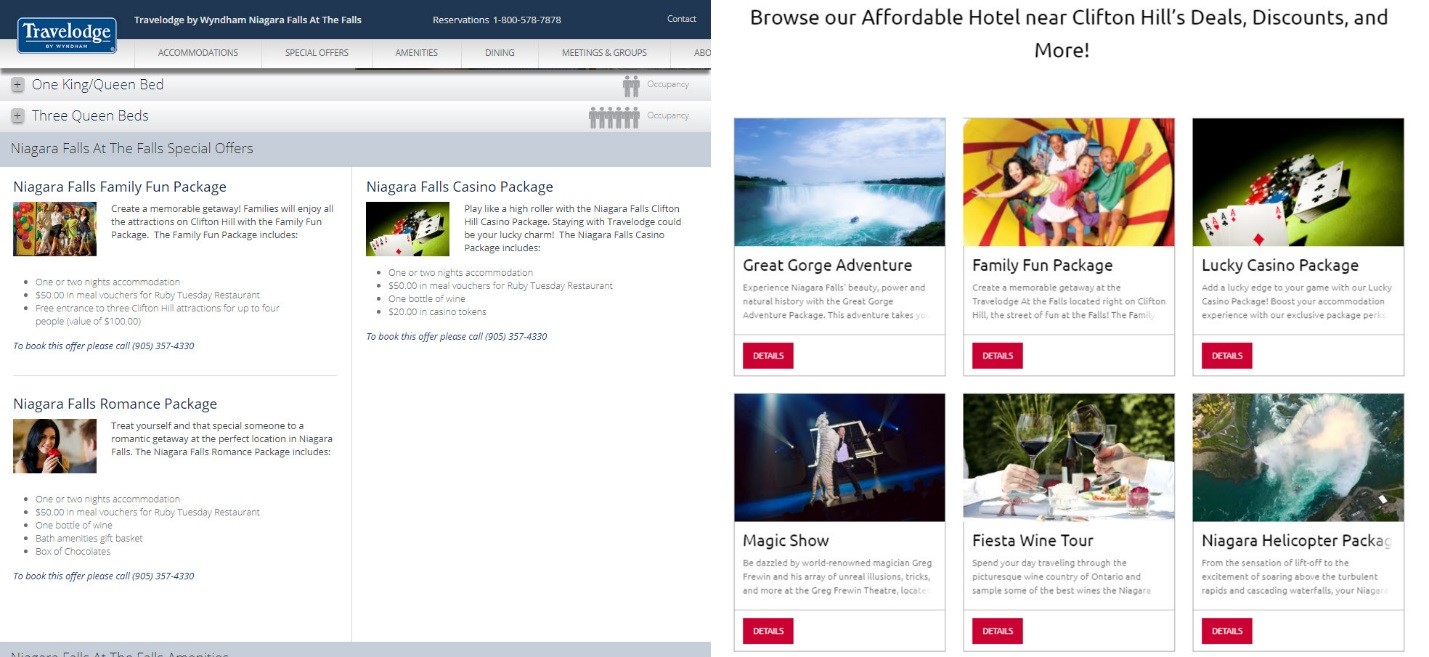 (Comparison of property's brand website and vanity website packages)
THE HISTORIC ADVANTAGE
Many travel shoppers may specifically visit your property due to its historical value and how it captures the essence of the overall area. If your property is located near a historic monument or attraction, a vanity website gives you the opportunity to capture that information and use it to target guests. Take Vizlly customer Manoir D Auteuil for example, this property takes great pride in its history as a vintage boutique hotel with unique traits like ironwork doors, marble bathrooms and intricate woodwork. These specific elements of the hotel have been woven into the property's website content through compelling content and high quality images.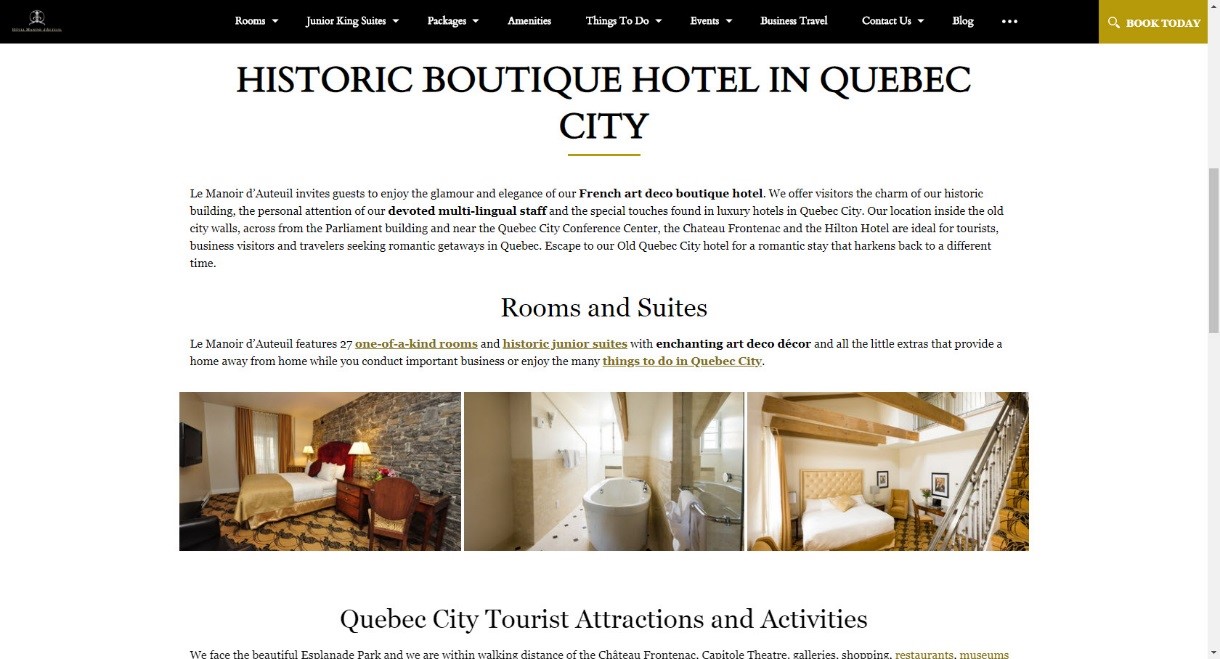 INCORPORATING SOCIAL MEDIA
When social media is used effectively, it can help drive more direct bookings from travel shoppers online. Having an updated social media profile shows a sense of commitment, and allows you to craft the tone of your hotel. Below is an example of Vizlly customer, The Park on Main, who have utilized their social media and also created a specific page on their website highlighting their efforts.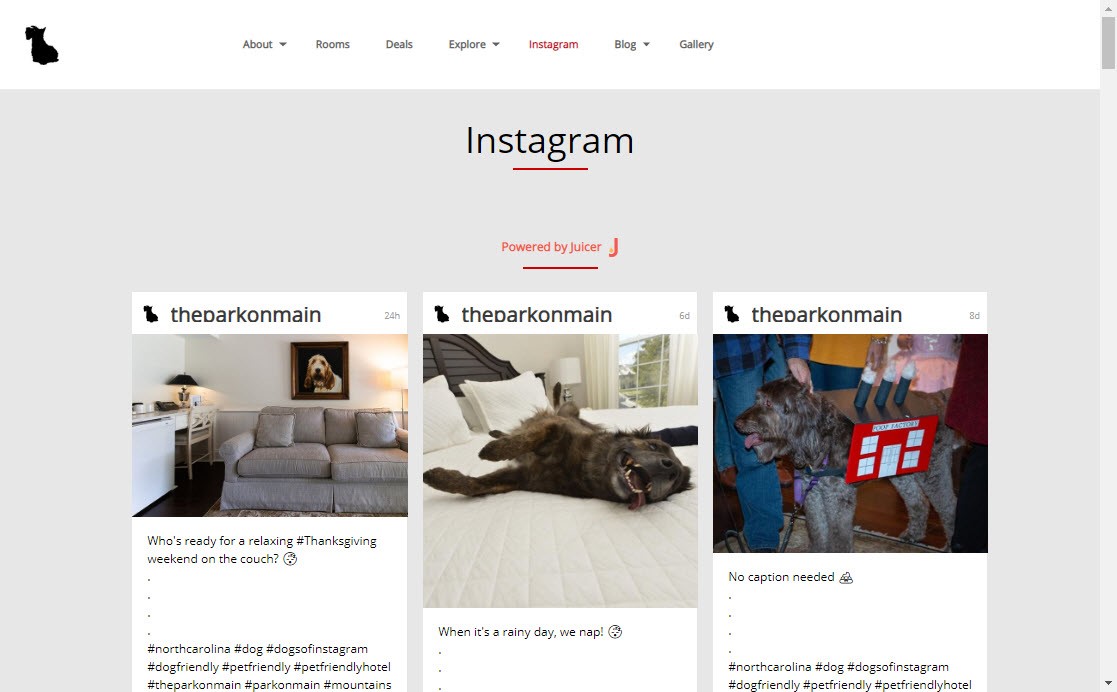 (Vizlly Customer, The Park on Main)
CONNECT AND GET TO KNOW YOUR TRAVEL SHOPPERS
With vanity websites, you have the ability to setup Google Analytics throughout the website to track visitors in deeper detail. This allows you to access specific metrics such as page views, bounce rate, performance, sessions and demographics. All of this information helps you understand your audience's behaviour while making accurate changes to your marketing initiatives to maximize your efforts.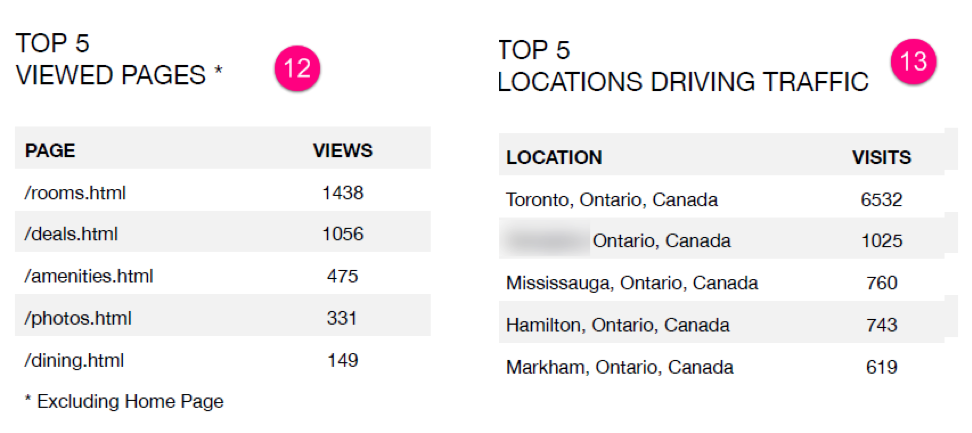 For more information, take a look at what Vizlly can do here, and for further questions on how we can create a more compelling way to drive direct bookings to your hotel reach out to our sales team here.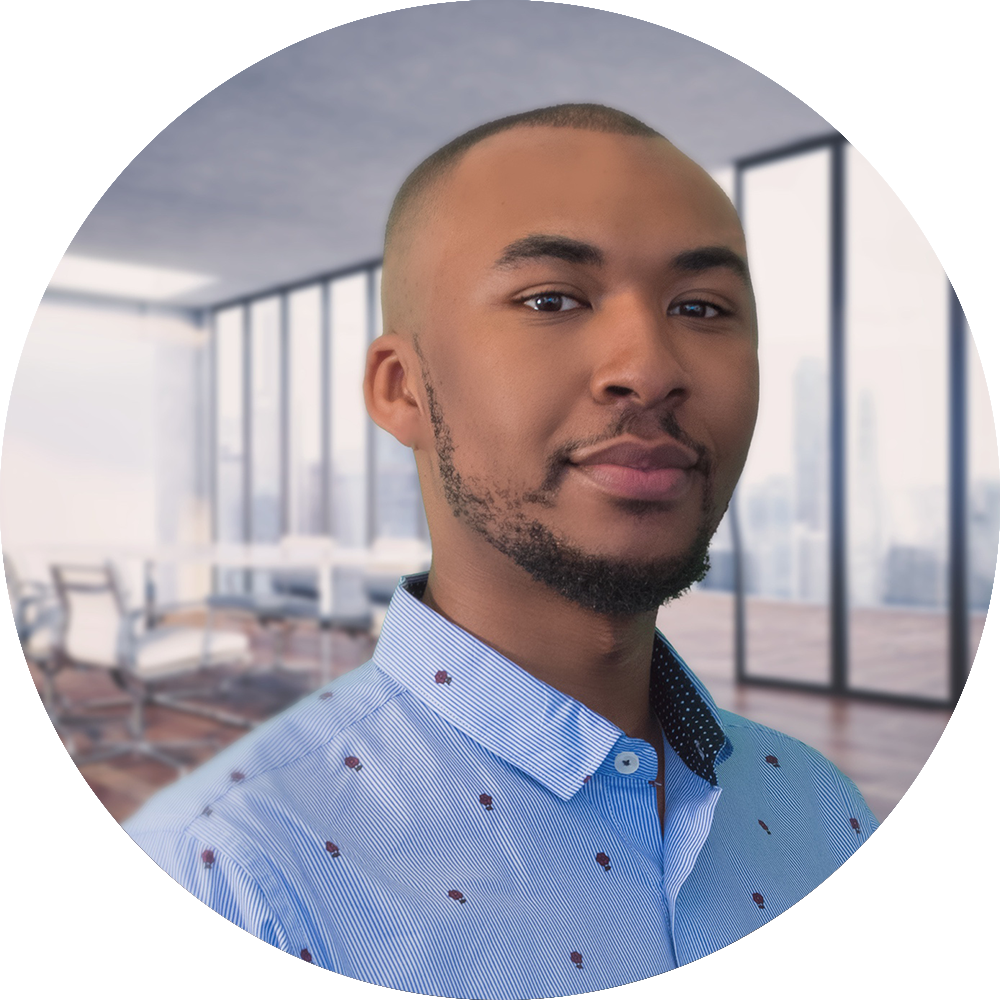 Written by Daniel Grant, Success Coach, CHDM.