If your hotel has weekends booked for the next month but weekday business has room for improvement, you may want to consider developing an in-house corporate travel strategy.
With global business travel spend expected to reach $1.6 trillion by 2020, there's a large opportunity for your hotel to capture part of this market. Today's business traveler is browsing for potential hotels through company booking tools and organic search, so what should your hotel be doing to catch their attention?
Highlight Your Local Area
Save your guests the time spent researching, and use your hotel's vanity website to let business travelers know about your hotel's close proximity to local offices, schools, and frequently visited job sites. The key is to help your guests have the most efficient stay, so make their research easy and convert them into a booking by highlighting nearby grocery stores, pharmacies, and transit stops as well.
With Vizlly + SEO services, our research team focuses on long-tail keywords as part of your website's strategy to answer specific search queries. If your hotel is located near any convention centers or transit hubs, such as airports or train stations, our research team will look to see if there are any local keywords with promising search volume.
Business Travel Tip: Look at your responsive Vizlly website on your phone and read the first paragraph to ensure the necessary information you want your business travelers to see is highlighted there.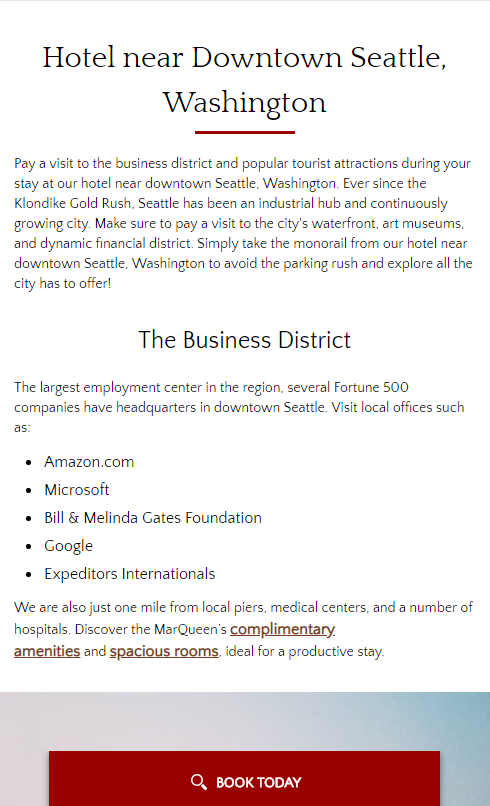 Personalize Your Site
What type of business traveler frequently books a stay at your hotel or at your local competitors? Tailor your website to the specific needs of your desired guests. For example, advertise common areas for busy freelancers to work in, or promote the large vehicle parking available for truck drivers. Acknowledging your guests needs will help make booking at your hotel an easy choice.
Business Travel Tip: Placing a premium on personalization means you won't fall into the trap of generic communication while creating a sense of hospitality travel shoppers will connect with.
Keep Travelers Connected
Complimentary Wi-Fi is vital for business travelers to connect with the office during their stay at your hotel. Most business travelers will come with several electronic devices, including a phone and laptop, so having rooms with multiple accessible plugs is key to customer loyalty and repeat bookings.
Millennial travelers use social media at least once a day and are more likely to reach out with questions about your hotel before making a direct booking. It's important to keep an active Facebook page to raise your hotel profile and create a space for guests to ask questions or leave reviews.
Business Travel Tip: Assign a staff member to check your Facebook a few times a day to interact with potential guests on social media, answer questions, and respond to reviews.
Business Travel-Specific Amenities
What services set you apart from your competitors? Business travelers are always looking for an efficient and streamlined stay, so be sure to highlight any express or complimentary amenities offered at your hotel. Any on-site food or drinks, 24-hour facilities, or private meeting areas are important, in addition to small details such as easy-access charging ports.
Business Travel Tip: Why not send your guests an email ahead of time with any relevant information they need prior to arrival, such as a separate line for mobile check-in.

Flexible Loyalty Programs
Even when travelers expense their room, they still collect loyalty points and rewards, a very attractive benefit of traveling frequently for work. Check if your brand's loyalty program has a corporate special and see how flexible it is. Guests may not know the full extent that they can earn rewards!
Independent properties can also create their own loyalty program for corporate travelers frequently visiting your area. Keep in touch with repeat guests and local businesses to set up your own rewards system.
Business Travel Tip: Remind guests about redeemable rewards that they could potentially use during their stay with you, to thank them for being a loyal rewards club member.
Special Offers and Preferred Rates
Unlike a generic RFP form that's sent to all hotels in the area, custom forms on your Vizlly website go directly to your sales department. Easily coordinate group room blocks and event space rentals with direct contact information. Business travelers always look to get the most value for the money, so create website-exclusive deals for business travel to catch their attention.
Business Travel Tip: Provide your guests with billing all in one record. Guests will appreciate easy expense reporting when they return home – and book again with your hotel for their next visit.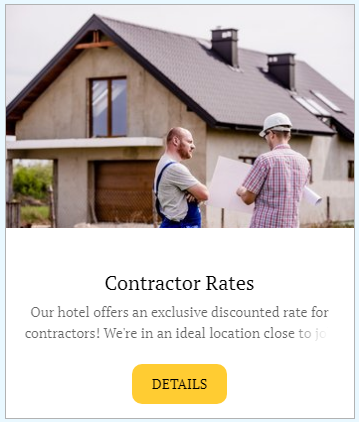 Create Local Partnerships
Visit local businesses to create local partnerships and ensure a steady traffic of business travelers. Be sure to show your website's new rooms, amenities, and deals pages that make it easy to book. Additionally, these pages provide ample opportunity for back linking opportunities for these local businesses, creating a mutually beneficial partnership between you both.
We provide each customer with a backlink tool kit, which provides templates to assist you in reaching out to local businesses for backlink opportunities. These templates can be used to help you reach out to these organizations to discuss partnership opportunities as well! Just ask your success coach for some additional tips on creating successful partnership with local businesses. 
Business Travel Tip: Share your mobile-first Vizlly website with local businesses and show them how easy it is for a corporate traveler to book a hotel room at your property from their phone.
Increasing corporate travel is not an overnight task, but this essential travel demographic will provide a steady amount of business year-round. Start planning your corporate hospitality strategy today to provide business travelers with a comfortable and productive experience at your hotel!