According to a study by SalesCycle, 81% of online travel bookings are abandoned. In 2014 Boxever estimated that $1.78 billion was lost due to booking abandonment. It's clear that booking abandonment is a big issue for hoteliers. Here are 5 of the main reasons for abandonment, and solutions to optimize your checkout and reduce booking abandonment.
Problem #1: Just Looking
Early in the travel shopping journey, travelers are gathering information to plan their trip. In fact many travelers haven't even decided on a destination much less a hotel. Travel shoppers visiting your website at this point may have no intention of booking whatsoever.
Solution
While it may seem like there is little you can do in this scenario, using visual storytelling can help travel shoppers firm up their travel plans and keep your hotel top of mind. This applies whether your property is a beautiful beach-front resort or an airport hotel. Travel shoppers' needs differ; it is key to know who your ideal guest is and tailor your content accordingly.
Visual storytelling goes beyond telling the story of your property. Include information on local events and nearby attractions. Convey the value of traveling to your region to convince them that the time to travel is now. Here are some tips to help get you started with visual storytelling.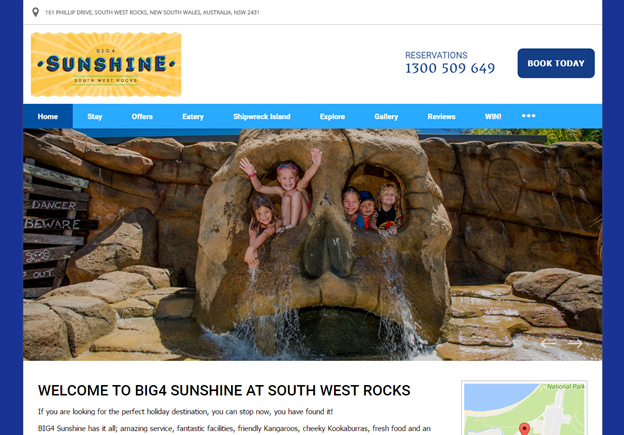 The Big 4 Sunshine in South West Rocks, Australia does a fantastic job of using visual storytelling to showcase their property as a fun family vacation destination.
Problem #2: Low Perceived Value
Many travel shoppers will abandon because the price is too high, or rather, they feel they're not getting value for their money or a good deal. The obvious answer is to reduce your price, but that doesn't make for a good business model.
Solution
Special offers are a great way to increase perceived value for your guests. Make your special offers or promotions front and center on your website and consider adding a Special Offers menu tab to your homepage. If you're using a promo code, include it right next to the form field at checkout, so customers don't have to go looking for it. Unsure about what to include in offers? Get inspired by these offer ideas.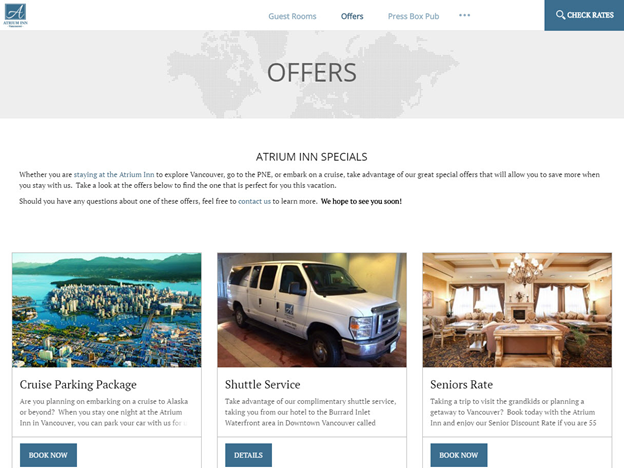 The Atrium Inn Vancouver uses special offers to encourage travel shoppers to book directly through their website.
Problem #3: Total Price
Travel bookings are often abandoned when the full price is shown at checkout. That is when they see all the add-ons and taxes included. If travel shoppers are expecting to pay a certain price and then it suddenly changes at checkout, they are likely to keep looking for another hotel.
Solution
No one likes to be surprised by added fees and taxes. It is best to show a breakdown of the full price upfront, inclusive of all taxes and fees. Showing the price in the travelers' native currency can also reduce booking abandonment. Including a currency converter widget is a quick and easy solution.
Problem #4: Forms and Personal Information
According to Sales Cycle, 26% of travelers abandon a booking when asked for personal information, and 21% abandon when asked for payment information. Furthermore, 13% of people leave if the booking process is too long and complicated.
Solution
Keep it short. Only ask for what you need to complete the reservation. Have clear calls to action so visitors know where to click, and remove any unnecessary messages that distract from the booking process. Any additional information that would be nice to have, but not necessary, can wait until after the booking is complete.
Problem #5: Slow Loading Times
According to Tnooz, 32% of bookings on mobile devices are abandoned because of slow loading times.
Solution
Make sure your site is optimized for mobile. This will ensure quick loading times and a seamless user experience across any device. A mobile optimized website not only makes booking on your website super easy. It also benefits your organic search results, as Google's recent algorithm change gives preference to mobile optimized websites.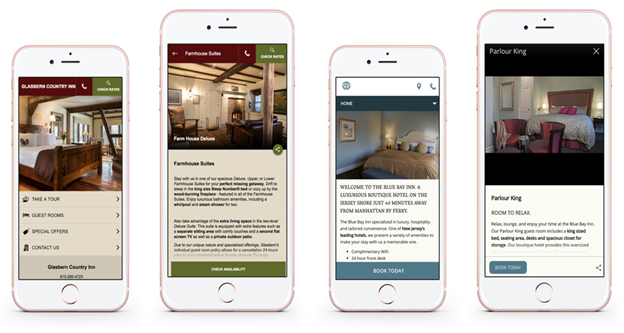 Adaptive website (left) and responsive website (right) are both optimized for mobile thanks to Vizlly.