Hoteliers know a lot about their properties. You likely know the intricate workings of your hotel like the back of your hand.
But do you know exactly what makes travel shoppers choose your hotel? Armed with the knowledge of what guests love about your hotel, you can be better equipped to market these features to other travel shoppers.
Some mid-range hotel properties feel like they don't have a "special something" like what luxury hotels offer. But it's often the little things that stand out to guests and make your hotel memorable, leading to repeat visits, positive reviews, and referrals.
How do you learn what stands out to your guests?
Sure, comment cards and online reviews are terrific, but there is another way to understand what guests love about your hotel. Ask your front desk staff!
These important employees are on the front line of your property. They interact with guests, receive comments organically, and likely have far more insight into the property than you realize.
Try asking each of your front desk staff for 3-5 reasons why they believe guests choose your property.
From their replies, you'll gain surprising insight and validate some of the features you already knew were important.
The more you understand about why guests love your hotel, the better you'll be able to frame your story in your marketing and advertising efforts.
Check out the responses one hotel received when they asked their front staff what guests love about the property.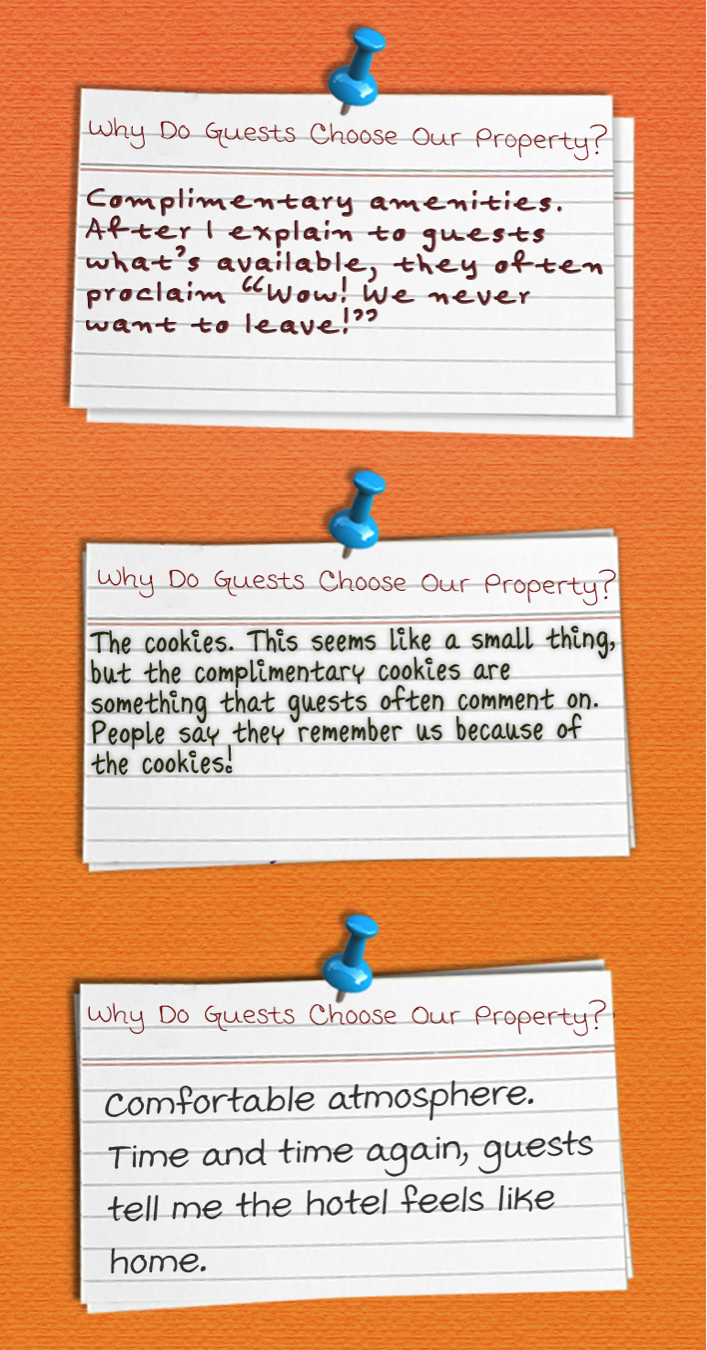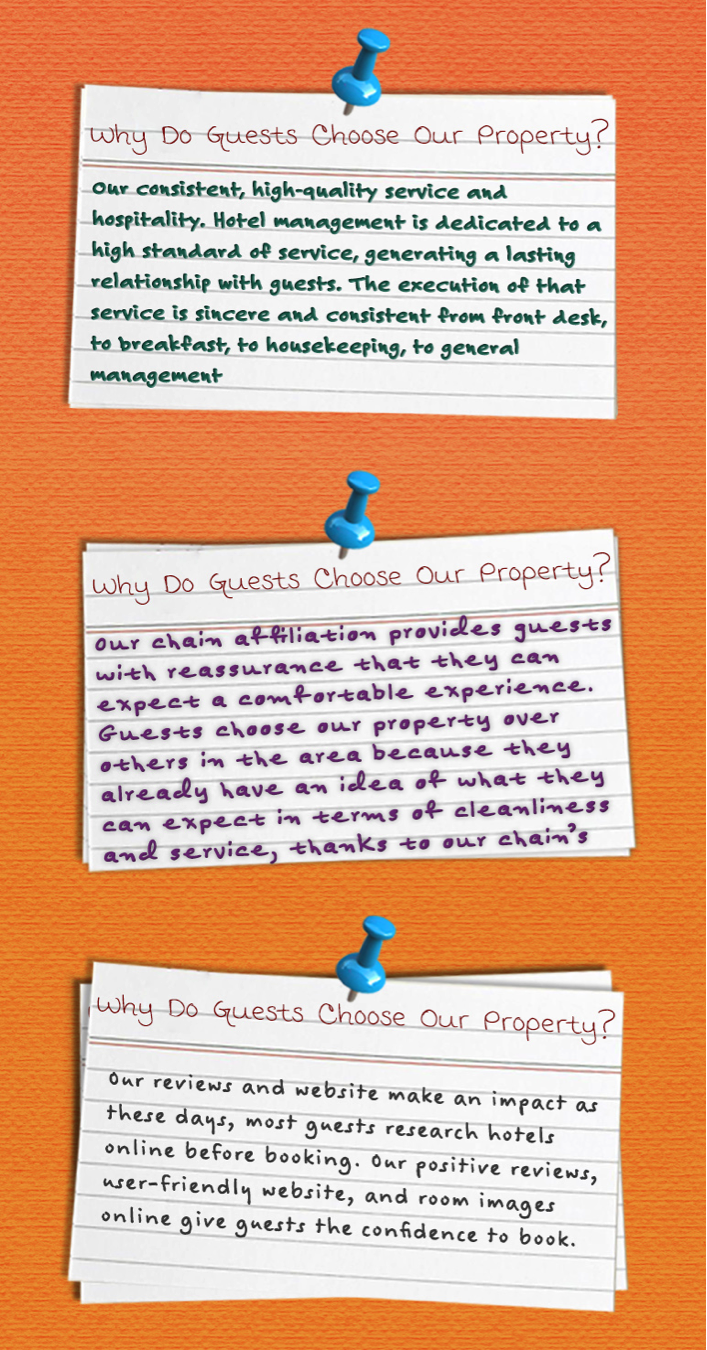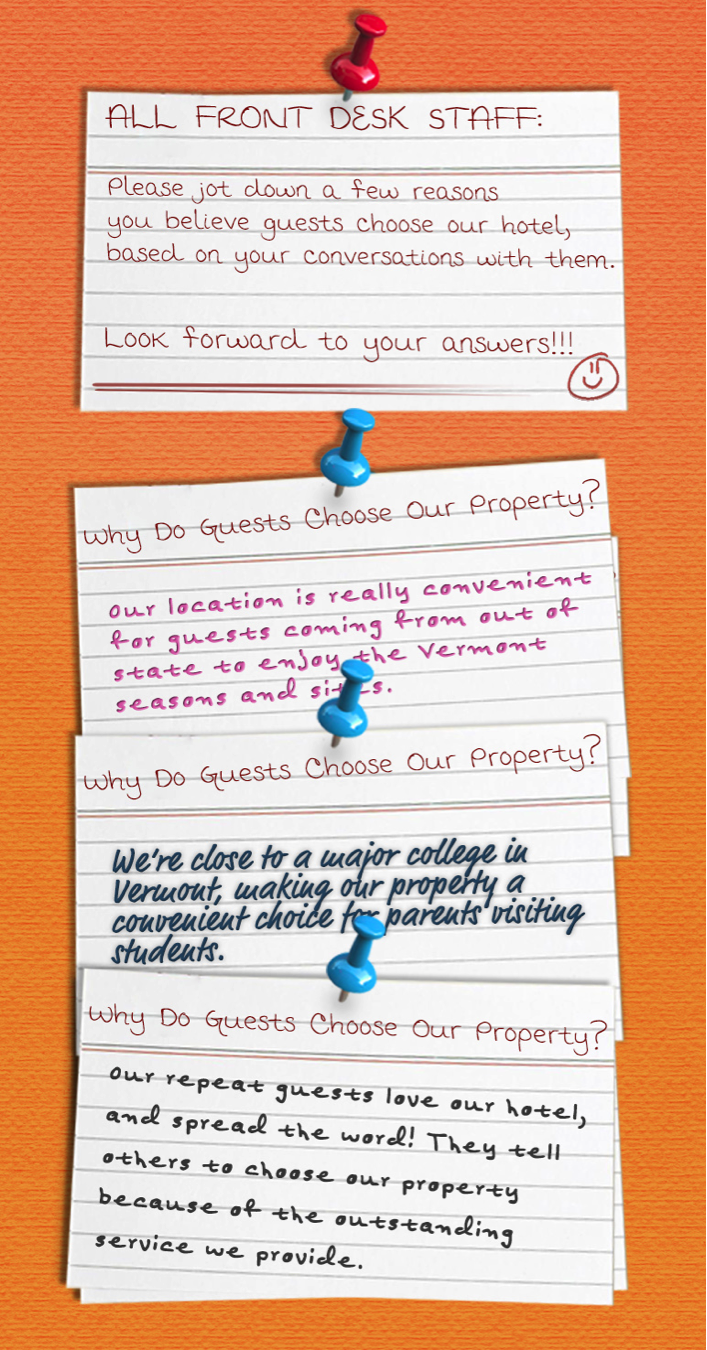 Now that you know what makes your hotel special, what's next?
By reading through these comments, you can identify a couple of themes. Since proximity to the local university is important, this hotel should be sure to explain that very clearly on their website.
The complementary amenities were mentioned by several front desk staff, which lets this hotelier know that highlighting amenities on the hotel website and social media posts will resonate with travel shoppers.
Try it for yourself. Ask your front desk staff to share their insight on what makes your hotel special to guests. You may see some trends in their answers that will help you craft more compelling content for your property.