There's nothing more encouraging to a travel shopper than reading a glowing review of a hotel in the area they're planning to visit. A recent TripAdvisor study found that 96% percent of users consider reading reviews to be an important factor in planning trips and booking hotels. Put yourself in the mind of a travel shopper – are you likely to book a hotel that features consistently poor reviews, or worse, no reviews at all?
Of course, positive reviews are a result of positive experiences, which stems from the way your property is managed and the services you provide your guests – but a lack of reviews can diminish all the hard work you put into running your hotel. Cultivating a review strategy will allow you to change the way your hotel is viewed online, and encourage more travel shoppers to learn more about your hotel's story.
Check out our top 4 tips on crafting the perfect review strategy for your property
1. Encourage reviews from your guests
After their stay at your property, encourage guests to write reviews so that their experiences can help other travel shoppers get a sense of your hotel's unique story and make an educated decision during their travel planning process.
The question is, how can you prompt a guest to leave a review? Here are just a few ideas of when you can encourage guests to leave a review:
When they're checking out
Through posts on Social Media Channels
In follow-up emails
For more ideas and tips & tricks on responding to reviews check out this previous community article.
2. Respond to all online reviews
It goes without saying that responding to online reviews of your hotel is critical to your hotel's review strategy. If a guest writes a glowing review of your property, take the time to thank them and encourage them to visit again.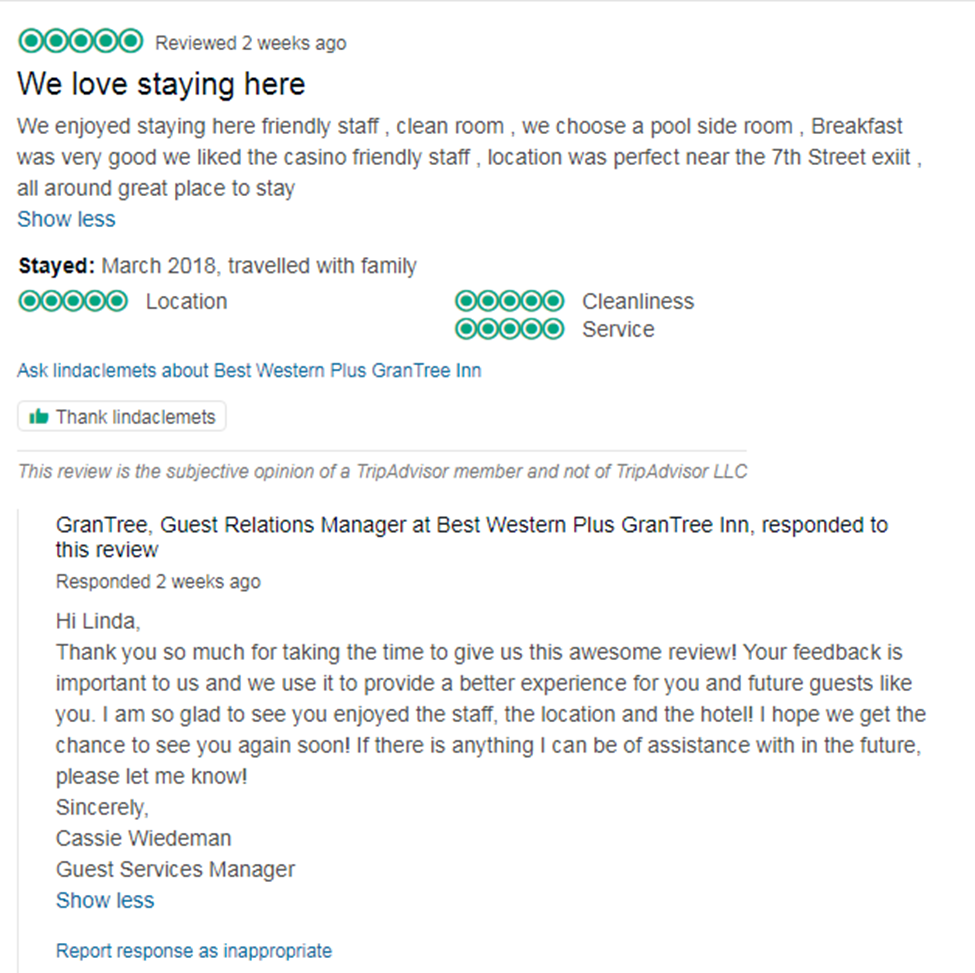 Sometimes things go wrong. While you may be working hard to ensure a guest enjoys their stay at your property, not everyone is going to be 100% satisfied with their visit. Regardless of the issue a guest experiences, reading and responding to the less favourable reviews can provide hotel managers with insight into what guests are complaining about, and learn how they can improve the guest experience.
The TripAdvisor study found that 85% of users agreed that a thoughtful response to a bad review will improve their impression of a hotel. Responding to a review, good or bad, shows travel shoppers that your hotel cares about its guests. Learn more about responding to guest reviews by visiting our previous community article on guest reviews.
3. Provide your guests with a great stay
What's one sure-fire way to get good reviews? Unparalleled service. Hotels should strive to provide each guest with a unique and exceptional experience, so it's important to pay attention to what guests are saying in their reviews, and take action to ensure the problems they have highlighted are resolved. Think about your property now: is there more you could do to improve upon the service you're offering your customers? If your property is located close to a major business hub, think about how you can make your property stand out to corporate travelers. If you're close to a number of delicious restaurants and fun attractions, make sure your front-desk agents have a list of things to do available at all times so your guests can always stay in the know.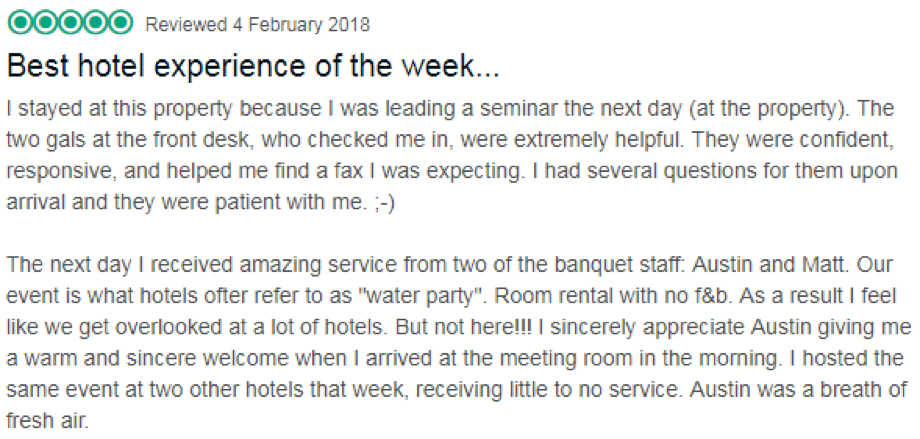 4. Showcase reviews on your website
Travel shoppers are going to read reviews of your hotel before they book, don't give them an excuse to leave your website once they've found it, include reviews directly on your site! Including reviews on your website also shows travel shoppers that you are transparent about your guests' hotel experience, creating a more favorable vision of your property.
Knowing the importance of showcasing reviews directly on a hotel's website, all of our Vizlly websites feature a reviews page, which generates your hotel's latest reviews. Make sure your reviews page convinces travel shoppers to book with you by applying all 4 tips to your review strategy.
Thinking about your property through the eyes of a guest can allow you to make the changes and improvements you need to garner more positive and engaging reviews.
Learn more about our Vizlly websites and hospitality marketing strategies by visiting our other community posts!