The Americans with Disabilities Act (ADA) was enacted to protect individuals with disabilities from discrimination when accessing private and public entities, including public accommodations in the form of hotels, motels, and inns. These protections have recently expanded to digital as we rely increasingly on websites and apps.
The Web Content Accessibility Guidelines (WCAG) 2.0 were designed to make it easier for disabled individuals to access information on websites. Basically, following accessibility guidelines helps users with disabilities more easily navigate your website and book a room.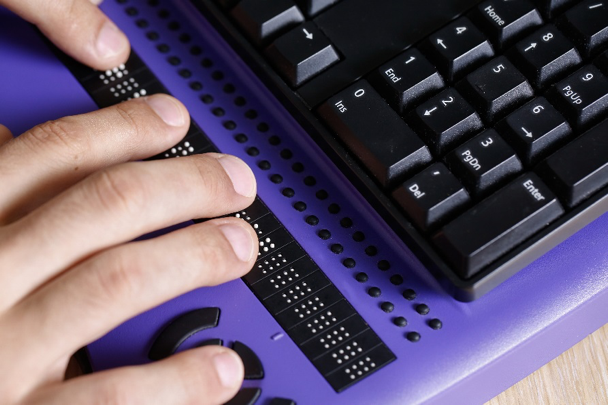 Is My Vizlly Website Compliant?
Based on third-party assessments of Vizlly websites, most Vizlly hotel sites are approximately 80% WCAG 2.0 compliant. As we continue to enhance the Vizlly product, we continue to improve ADA compliance.
While accessibility guidelines vary from country to country, many have similarities to ADA and WCAG 2.0. As you make updates to your Vizlly website, be sure to follow these four accessibility guidelines that will help make your website more accessible to visitors from around the world.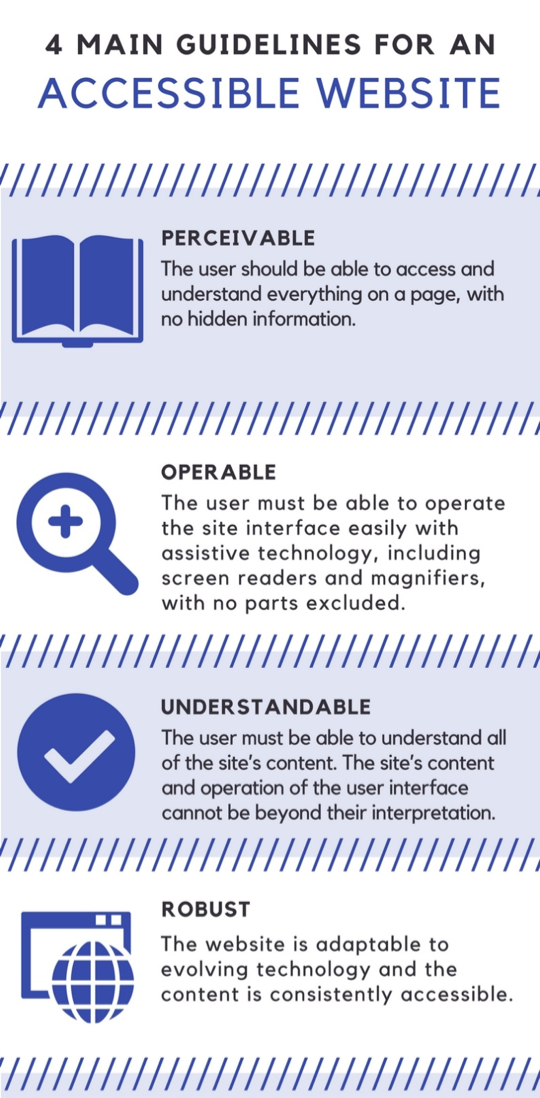 Contrast Ratio
Users with visual impairment need high contrast color settings, so all text must meet a minimum contrast ratio against your website background. Our best practises are to use colors that have a primary tone, such as blues, greens, and darker greys.

As you can see, the middle image is hard to read and would not pass the contrast ratio requirements for an ADA compliant website. The first and third images have a high level of contrast between white and dark greens and blues. You can check the color contrast of your site here. Our best practices state that the contrast ratio score should be at least 4.5.
Image Captions
All images should have a descriptive caption (alt-text) for a screen reader to accurately depict each image. For example, this breakfast picture contains a specific descriptive caption and additional information about the breakfast that wasn't conveyed in the image.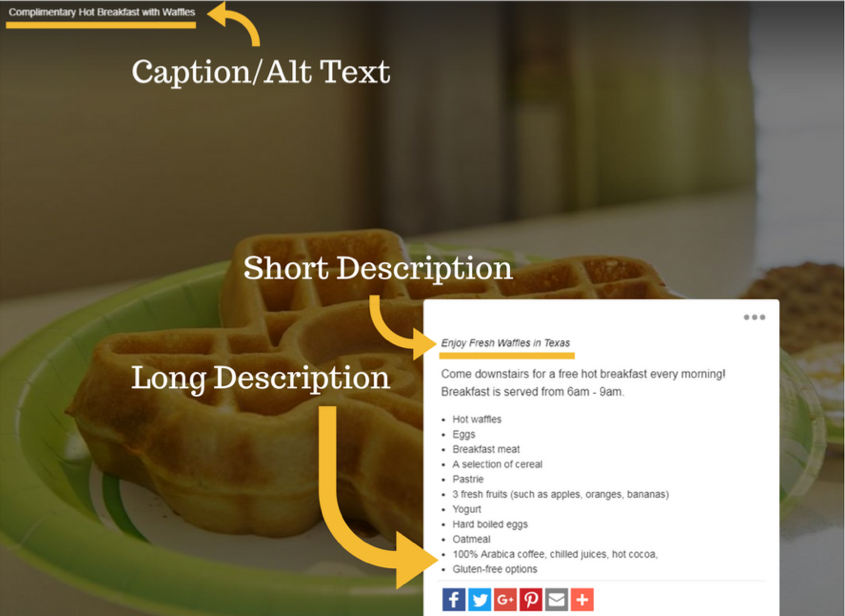 Make sure all of your images have meaningful names when you upload new content into the Vizlly library. This will make it easier to add short and long descriptions later on.
Interactive Content
Videos should only play on demand. Pop-ups and overlays should have alerts and an easy means of closing to avoid travel shoppers becoming trapped in these features.
ADA Rooms
Are your common areas such as the pool and fitness center accessible? Letting your guests know can interest and encourage them to book with you instead of your competitors. Showcasing your ADA-compliant rooms and amenities on your Vizlly website is a great opportunity for your hotel to increase booking rates and guest satisfaction among customers with disabilities.
Consider promoting:
ADA services offered to guests
ADA modifications to hotel amenities
Accessible routes and entrances in your hotel
Website accessibility is critical to ensuring that all of your prospective guests have full access to the information on your website and are able to book.
Ask your Success Coach about other ways to make your website more user-friendly for all guests.
Helpful links:
Learn more about accessibility standards.
Check the color contrast on your site.