E-commerce and social media are driving continuous changes of technology and customer service in this ever-changing digital landscape, with. As we live and interact daily online, there are now large amounts of personal data being shared online. Consumers are now more aware and sensitive to how their personal data is collected and used. As a hotelier, communicating to your guests how you collect that data and use it is critical.
Whether you've recently launched a new website for your hotel or already have an existing site, this is an important component to include on your hotel website: a privacy policy page. Read on to learn why a privacy page is important and why you should include one on your Vizlly website.
Why Should I Include a Privacy Policy on My Website?
To maintain a loyal customer base, it's important to ensure that you've created a strong sense of trust with them from the start. One way to do that is by maintaining an up-to-date privacy policy on your website and gaining explicit consent from customers to use their data, while also giving them the option to opt-out or erase their personal data.
Cookies can collect or "cache" personal data such as names, addresses, IP addresses, location data, and other types of personal information. This allows website pages to load more quickly for returning visitors.
Your privacy policy page should be placed in the footer of your Vizlly website, in a location near your standard hotel policies. This is an extension of your reservation policy and is important information for travel shoppers to have access to.
On Vizlly powered by Bookassist websites, visitors will be presented with a cookie banner that looks like this:

Clicking "ok" or not on the cookie banner is the first step visitors take in deciding whether or not they want their personal data collected. A link will also be included in the banner for the visitor view more information about your hotel's specific privacy policy.
Building loyalty and trust with your customers means guests are more inclined to leave positive reviews and recommend your hotel to others for future bookings. Leaving data security and privacy low on your priority list could have a negative impact on your hotel in the long run. Any potential data or privacy breach could heavily damage your hotel's brand reputation.
There are specific legislations now in place as website security is an increasingly common issue. The General Data Protection Regulation (GDPR) and the California Consumer Privacy Act (CCPA) require businesses around the world to adhere to in order to protect the personal data rights of individuals from certain regions. Not complying with either of the legislations' rules and regulations could result in significant penalties.
What Should I Include in A Privacy Policy?
The first step is to understand all the personal information that your hotel collects. Consulting with your legal team or the person in charge of data security and privacy within your team will also give you a good starting point to see what needs to be included in your privacy policy, and ensuring its compliance with the GDPR or CCPA.
The next step is detailing what to include in your privacy policy. The infographic below will help give you an idea of what most hotels and businesses' privacy policies generally cover: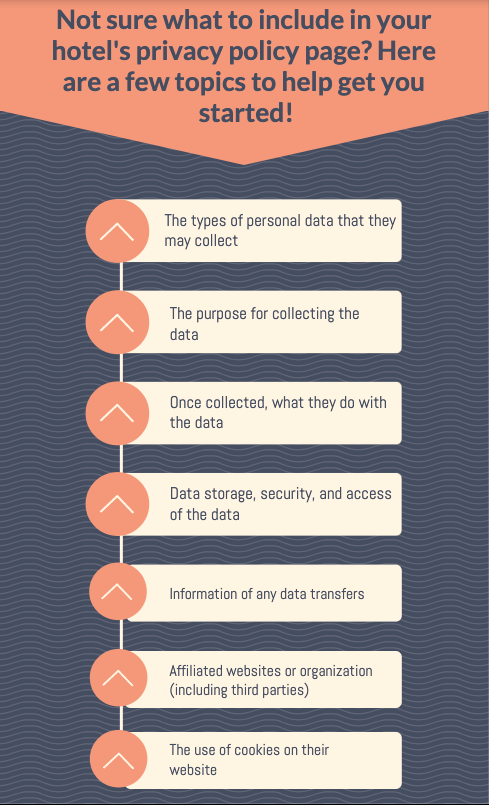 Work with your legal consultant or staff member in charge of data security and privacy when laying the groundwork of what your hotel's privacy policy should include.
Following Online Legislation
In short, if you collect personal information from anyone visiting your hotel's website, then it is your responsibility to have a privacy policy posted on your site that lets visitors know exactly how your hotel uses and stores their personal information. In an age of data uncertainty, the importance and awareness of protecting people's online personal data is only going to keep growing.
Guests care about their privacy; they are your top priority and drivers of your hotel's success. The crucial steps you take today to protect your guests' privacy will uphold your hotel's reputation and give guests the comfort and confidence to book with you.
Examples of hotel privacy policies:
https://www.theinnatleolavillage.com/en/policies/
https://www.theiveyshotel.com/privacy-policy
https://www.beachterraceinn.com/privacy-policy/