Content Manager is an enterprise solution that helps hospitality companies simplify visual content management and distribution. Trusted by the world's largest hospitality companies, our platform manages visual content for over 65,000 GDS listed hotels across thousands of travel and brand websites.
How Does Content Manager Work?
Content Manager has been simplifying content management and distribution for world leading hospitality companies (chains, soft brands, representation companies, management companies and large luxury properties) for over 17 years.
The process is divided into three steps:
1. Store - Upload and organize images, video, 360 tours where they'll be stored in one place, securely.
2. Curate - Sort by room types, create private libraries with gated access and streamline workflows and approvals.
3. Distribute - Publish your content to the world's largest network of travel websites and your own web properties - all from one system.
"The service and support Leonardo provides is excellent. We have monthly calls with our dedicated Account Director and have access to a reliable technical support team."
Athanasia Gkirini, Product Manager – Visual Content, Trivago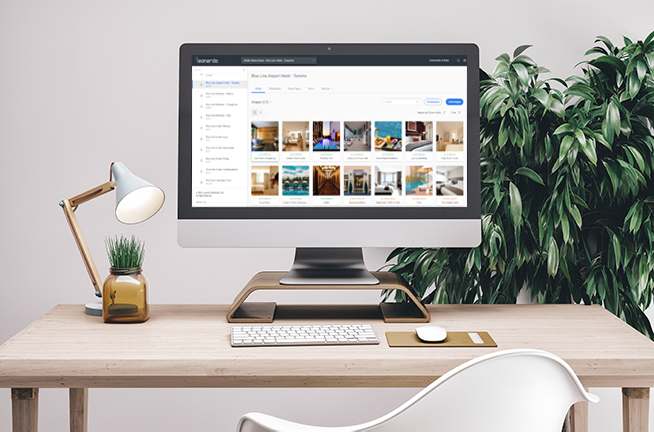 What are Content Managers Features?
1. Media Distribution
Manage an unlimited amount of media from one central platform. The content uploaded into Content Manager will automatically be standardized and coded with all of the requirements, including Room Type code associations, for easy consumption by the GDS', OTA's, Metasearch's and 200+ unique channels that are part of Leonardo's VNetwork.
Leonardo's technology is fully automated and deeply integrated with the world's leading channels ensuring that your content is always up to date and improving content scores over time, which has a direct impact on how properties are ranked and more importantly how they convert on those channels.
2. Single Sign-On (Seamless)
Streamline the content delivery process from your individual properties by integrating Content Manager into an existing and familiar corporate portal. Improve the value of your chain to the properties by providing them an easy-to-use tool to update visual content across all property managed channels.
3. Workflow and Approval Engine
Protect the brand's integrity and ensure that all branding standards are intact. The Workflow and Approval Engine creates a fluid process by decentralizing the uploading of content while centralizing how that content is distributed and where. The flow of content is monitored by the brand/group and notifications are provided to all involved through the entire process.
4. Private Digital Library
Simplify the flow of branded content to printing houses, press outlets and/or agencies as well as internal departments that utilize such content. The PDL provides a secure and trackable branded portal/website that permits the download of a mix of high resolution media, logos, virtual tours as well as other branded corporate materials (ex: PDF's, corporate logos, executive bios, etc.) On-demand reporting provides full transparency on who is accessing the brand's/group's content.
5. Automated Galleries (for Brand.com)
Seamless integration for a hotel brand/hotel group to dynamically display all approved visual content directly from Content Manager into optimized web galleries on Brand.com. The galleries can be customized to fit all of the brand's display needs and the flow of content can be automatically sequenced and organized based on pre-determined rules that are set by the brand and implemented by Leonardo.
In addition, the galleries are fully capable of display all of your media (videos, virtual tours and images) and are SEO enabled which allows the brand/ group to gain all of the SEO benefits that media can provide and help site rankings on Google, Bing and other search engines.
6. Property-Level Vanity Sites
Retain control and consistency of brand standards while increasing incremental revenue at your individual properties with Vizlly, our property-level content management solution. With the same workflow and approval process used to manage all other channels, you can ensure only brand approved content is displayed on property websites, creating a consistent user experience from Brand.com to Property.com.
Using a targeted SEO strategy and high converting design, Vizlly helps leverage the specialities of each property to boost occupancy and ADR while reducing dependence on OTAs.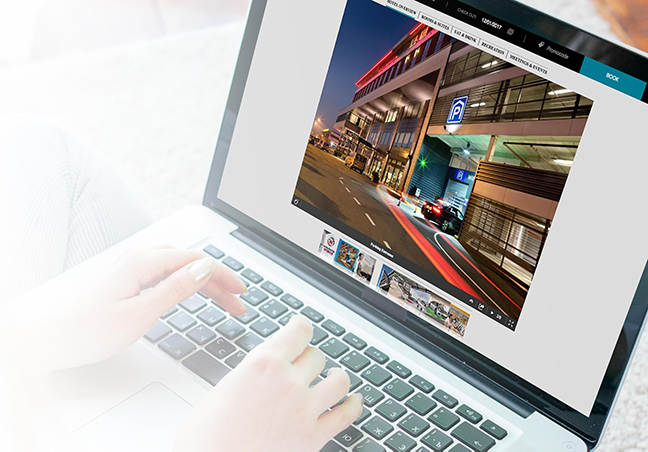 What Are the Benefits of Content Manager?
1. Centralize your process
Centralize the sourcing, management and distribution of hotel media for your hotels. Regardless of geographical location, file format and size, Content Manager cloud-based technology makes it easy for properties to upload their visual content to a single, brand-controlled system.
2. Save on costs
Distributing the same digital assets to multiple internal and third-party channels is tedious and costly when done manually. Content Manager eliminates multiple image repositories, automates manual tasks, reduces errors and improves accuracy, all while reducing costs.
3. Convert your customers
Keep your visual identity consistent across all channels. Great visuals and user experiences are proven to drive better consumer engagement resulting in much higher purchase intent.
4. Easily share media
Share brand approved media with publishers, agencies and media from a Private Digital Library of content. Control user permissions with private logins and passwords and track activity and downloads.
5. Reach the most travel shoppers
Reach millions of consumers with your hotels' images on thousands of travel websites, including all four GDSs, major OTAs, corporate booking channels and travel research sites.
6. Increase revenue
Share images, virtual tours, videos, room-specific media and personalized visual experiences that engage, inform and inspire travel shoppers to book with you.
Content Manager helps hotel chains drive revenue and improve efficiency. Talk to your Account Manager today about how you can maximize your Content Manager investment or contact us here.