Watch the video tutorial to learn more:
We recommend viewing it in full screen for optimal display
Media categories are an essential component of distribution. Travel channels read and use categories for personalization and optimizing your listings. Proper categorization also keeps content scores high by ensuring that you're meeting travel channels' best practices.
To upload media:
Media must be associated with a container or a property – select the relevant property or container from the left panel
To upload images, click the blue "Add Images" button on the top right.
Drag and drop your media from another window into the Upload Media pop up, or click "Browse" to search your computer for the files
Incomplete fields will automatically show up in red
Enter a descriptive caption – this caption is distributed and displayed on some channels, be sure to not include the file extension (.jpg, .png, etc) in the caption
Select an appropriate category from the drop-down list, using the search option to simplify the process. Set a bulk category for your entire upload by using the "Set Category For All" drop-down at the top of the upload screen.
Set the deployment level either in bulk or for each photo: "Inactive" means it will not be distributed anywhere. "Global" sends to all third-party distribution channels. "Media Library Only" feeds exclusively to your Media Library.
Press "Upload" once complete
Newly uploaded media is categorized as "Processing" as the optimization engine runs
If you want to upload Videos, Virtual Tours, or Documents, click the media filter on the top left (default is Images) and change to the file type you want to upload. The upload button will flip over to the corresponding file type (e.g., Add Virtual Tours). Click the button and follow the instructions above.
If you do not change the media filter to the correct file type it will not upload.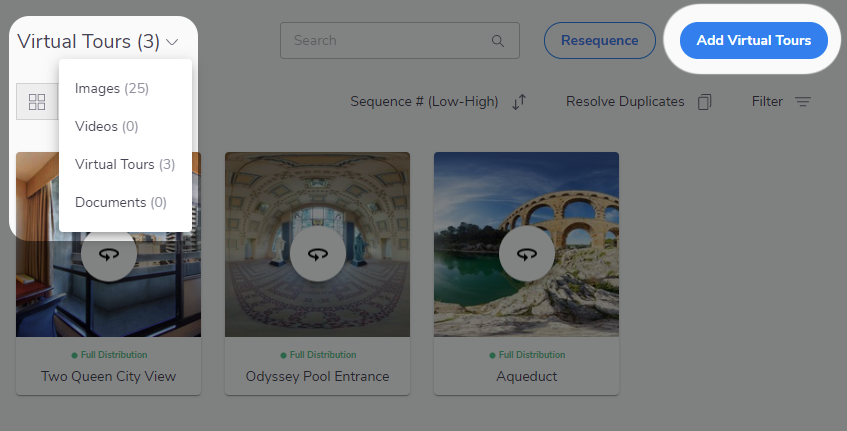 To edit an individual photo:
Click anywhere on a media file to pull up the Edit Media details panel
Edit the caption, category, or metadata in this panel
Click "Save Changes" to confirm your edits
For a closer look at uploading and categorizing media, watch the video tutorial above. Contact your Account Manager for any additional help.