Workfront Proof software is an interactive tool that allows you to comment directly on your new Vizlly powered by Bookassist website preview. Highlight text, draw arrows, and add comments directly on the webpage within the Proof software.
Your Workfront Proof will be sent to all approvers on your website build team. All comments will curate on the side so you can see what your fellow approvers have commented.
Receive and download Workfront Proof
Once you receive an email that your website preview is ready, it's time to provide your feedback! There will be a set deadline to add your edits to ensure that everyone on your team sets aside some time to take a look at your new website.
Click on the "Go to Proof" button in blue below. A new window should open asking you to download or launch Workfront Proof.

Once Workfront Proof is launched, your website preview will load. You are able to scroll and click through all pages of the website to review.
Add markups and comments for your edits
Select "Add a comment" at the top.

From here, you will be able to add markups, arrows, highlight text, etc. to indicate the specific area of the site you'd like to edit.
Write your edit on the comment section on the right side of the screen.
Select "Post".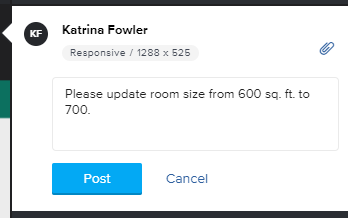 Navigate out of the Comment section to browse the rest of the website in two ways:
S

elect "Cancel" on the new comment box that opens up

.
Select

the small website icon on the bottom

righ

t

hand

side of the screen

to "return to live content".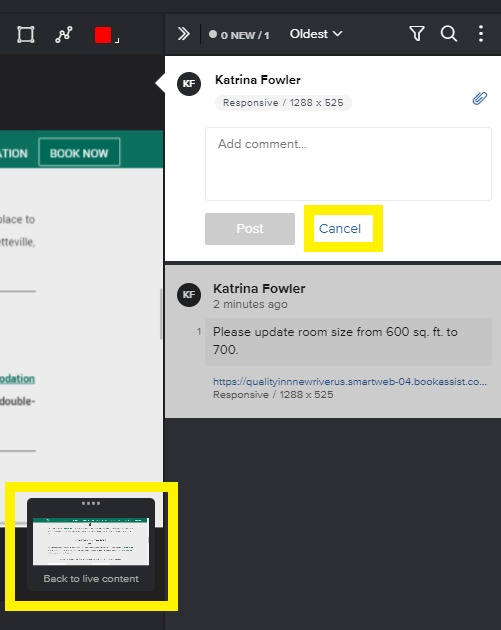 Once you've added all of your edits
Select "Make a decision" at the top. Choose:
Select Approved if you have no edits.

Select Approved with Changes if you have included edits in the proof.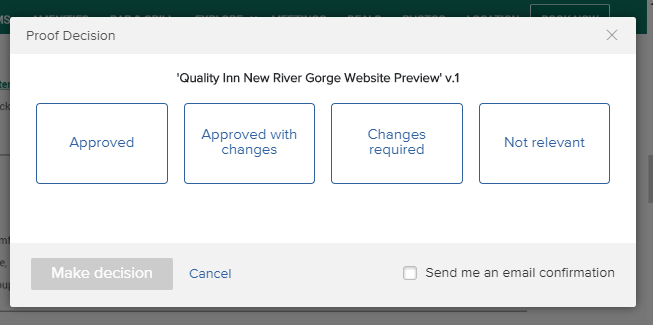 Once all approvers on your team has made a decision, the proof will automatically be locked and your Content Specialist will start working on updates to your site.
All edits within the proof will count towards that Round of Edits. Your team will receive 2 Rounds of Edits prior to your website going live.
Please note: Your website is built on a Vizlly powered by Bookassist templated theme. Your Content Specialist will help accommodate the look and feel that your team is looking to achieve, but there are some restrictions within any website template.
Your Edits are organized into Rounds One and Two to keep your project organized. Utilize Workfront Proofs to ensure all approvers on your team have the opportunity to provide website feedback prior to going live!