So, you've booked a photographer to come capture your hotel. Now what?
Make the most of your time with your photographer by having everything set up properly beforehand. You're going to be looking at these photos for years to come, and they'll be one of the essential ways guests choose whether or not to book with you. Schedule time to prepare for your photoshoot, because a picture is worth a thousand bookings.
After Booking Your Photographer
Provide your photographer with a detailed shot list and brief them on your hotel. Your brief should get them familiar with your property, its unique selling features, what you want to capture, and the target markets who will be looking at your photos.
Your shot list will list all the room types and individual areas you need photographed. If your photographer is not familiar with your brand guidelines, provide your photographer with a full outline of your brand's requirements.
Your shot list should include the essentials—room photos, photos of your amenities—but you'll also want to capture some "lifestyle" shots or shots of any interesting architectural details that your visually-driven website can use to help you stand out.
What are lifestyle shots?
Make sure to include a wide variety of shots in your shot list. While "lifestyle photography" typically refers to staged photoshoots with models, for your hotel it can just mean adding a bit of "life" to your photos.
Prepare to take some photos that will make it easier for guests to imagine themselves at your hotel. Have a plate of breakfast prepared in the breakfast area. Set up your event space for an event. Set up a champagne bucket on a room's patio. Whatever suits your property!
1 Week Before
Make sure everyone on staff knows about the photoshoot and is on the same page. If your photographer is doing a scouting trip, nail down the order of events, and provide this information to the staff on-site that day.
Select the rooms you want photographed of each room type. Visit the rooms around the time the photographer will be doing room shots to ensure the lighting is similar. Make sure that you will have the rooms available to be photographed that day.
The Day Before
Prepare your hotel for the shoot! There's a lot to prep, which is why it's essential that everyone is on the same page well before you're actually doing all the work to make the hotel picture perfect.
Someone on staff should be available to assist the photographer throughout their time at the hotel. You don't want current guests inconvenienced by the photoshoot! Have extra staff ready to help guests wherever you're shooting and print signs to clearly indicate the hotel is being photographed and staged.
It's easy for a photo to make a space look more cluttered than they appear in real life. It is essential to declutter wherever possible. Remove marketing collateral, trash cans, extra cups, and any unnecessary materials in all the areas being photographed.
Here are some of the essential prep tips for each area of the hotel:
Rooms
Steam or iron all the linens! This includes the bedding, pillow cases, and even the curtains.
Adjust bed skirts so they are even.
Do you have nice views out your hotel windows? Decide whether you want the curtains open or closed.
Stock the room with any branded or special toiletries.
Check the lamps or secondary lighting to make sure they all have the same bulbs and wattage.
If it's an extended stay room, make sure you have a full, matching set of plates and serving ware in the rooms.
Remove all the extra clutter, including trash cans.
Prepare some props for alternate images: food laid out on the table, rubber duck for the bath, use your imagination!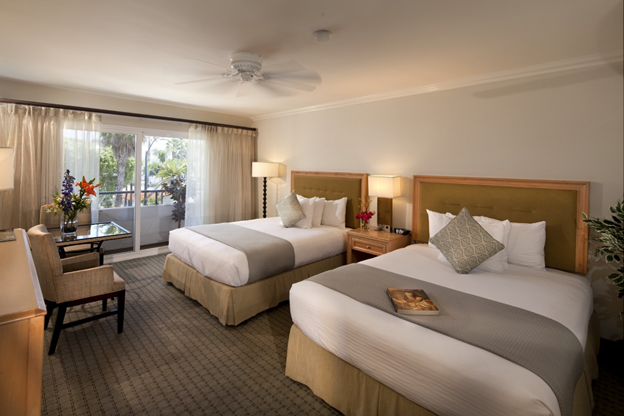 Best Western Beachside Inn
Meeting & Events Space
Have the materials ready for at least 2 to 3 set ups: empty room, corporate function, social event.
For the corporate set up, arrange the room for a maximum capacity conference/classroom-style, with paper, water, and any additional material set up at each place.
Social events should be set up as you can make them, given time constraint. Place and set less tables than you would for a real event to fill the room without cluttering the shot.
Do you offer additional services? Have a breakfast bar, basket, or coffee station set up to show them off.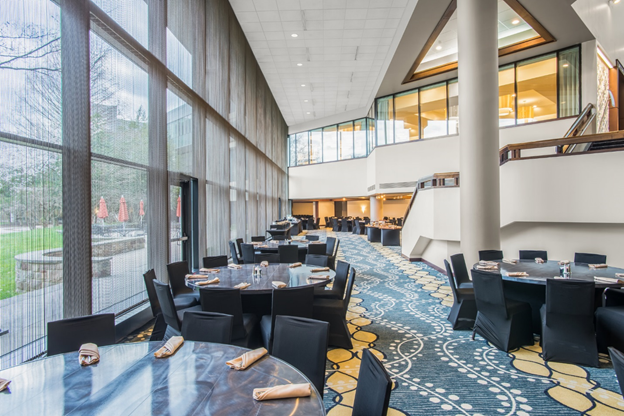 Crowne Plaza Princeton
Fitness Center
Clean and prepare all equipment, including organizing free weights.
Make all screens show the same thing (or turn of all entirely).
Stock and fold the towels.
Business Center
Clean all surfaces, including computer screens.
Hide all cables.
Organize and declutter additional supplies.
Dining Areas
Have materials on hand for both a fully-set dining area and an empty one.
Steam all linens.
Declutter the bar area.
Face all bottles behind the bar.
Prepare to have photos taken of food, whether it's just breakfast or a sample of what your restaurant serves.
Ensure staff is ready to help any guests and schedule around the shoot.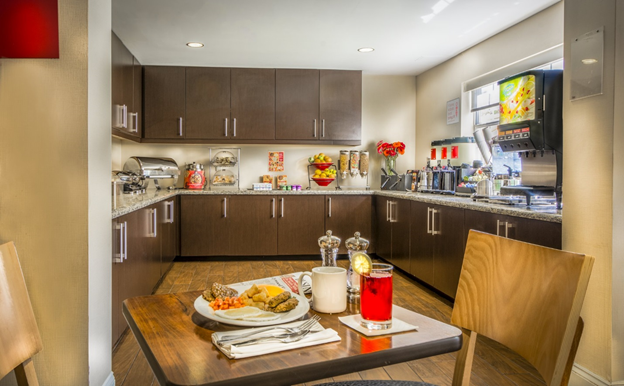 Towneplace Suites by Marriott Baltimore BWI Airport
Lobby & Gathering Spaces
Fluff and prepare all pillows, steam and clean linens.
Declutter marketing material, trash cans, etc., especially at the front desk.
Work with your staff to ensure any guests arriving at this time know where to go.
Pool, Deck, Patios
Deep clean the pool or Jacuzzi.
Place towels on a few pool chairs/loungers.
Find and arrange the best looking deck furniture, open umbrellas.
Turn on water features.
Remove any clutter.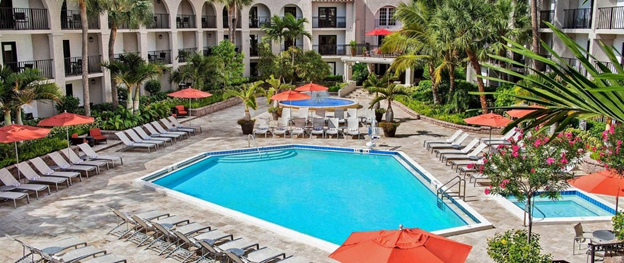 Wyndham Boca
Make sure all your hard work pays off by having your photos reach travel shoppers. Once you've visually captured your hotel rooms and features, you need the best technology to show them off. It's time to upload them to your Vizlly account and showcase them on your site! Read our instructions on how to properly upload and label your photos in Vizlly.
Looking for more ways to show off your hotel's unique story through images? Learn about 5 Tips for Sourcing Visual Content.